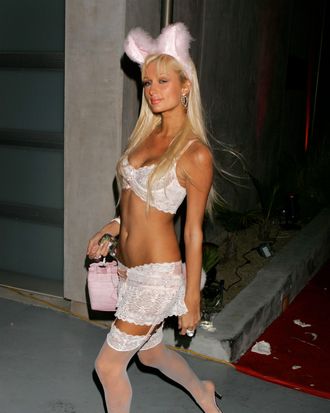 Photo: David Livingston/Getty Images
Reliable celebrity Paris Hilton spent over $5,000 on sexy Halloween costumes at Trashy Lingerie, a costume and underwear emporium famously patronized by the likes of Madonna, Dolly Parton, Gwyneth Paltrow, and Janet Jackson.
Paris will dress as an assortment of empowered female figures for her multi-day Halloween festival, including a sexy fairy, a sexy princess, and a sexy warrior woman (all repeats for Paris). One ensemble, particularly pricey owing to its lack of fabric, was a custom-made "jungle" costume modeled after Katy Perry's bikini-outfit from her music video "Roar." This past weekend, Paris Hilton adorned herself in a Miley Cyrus teddy bear suit for the Playboy mansion party.
Oh, Paris, you human bedazzled trucker hat! You're a testament to consistency. Your unwavering actions and taste are truly a wonderment. In a world of change and turmoil and uncertainty, you are our rock.