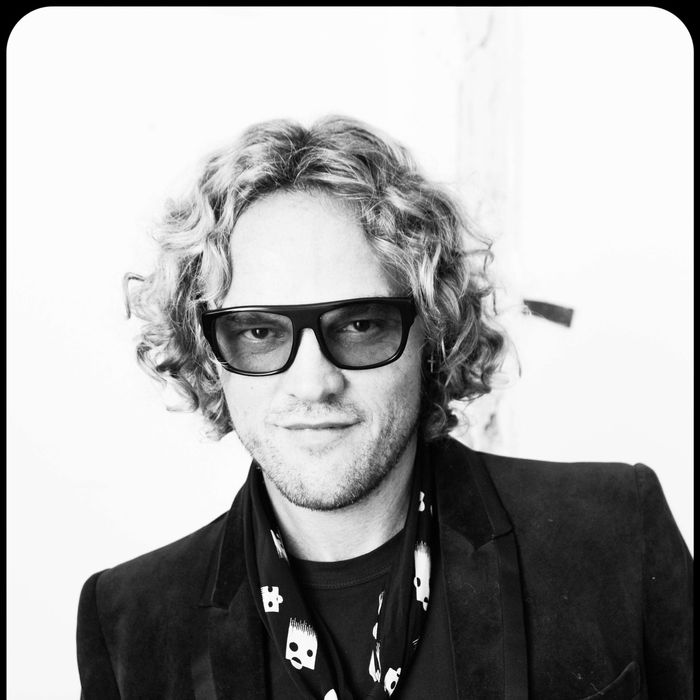 Peter Dundas.
Photo: Joe Schildhorn/BFAnyc.com
When Emilio Pucci designer Peter Dundas strides into his label's section at Saks just after 3 p.m. on Tuesday afternoon, the crowd — mostly Upper East Side clients and a few eager tourists —  reacts as though Mick Jagger has walked in. They point, nudge, and exclaim, "There he is!" a little too loudly. Tall, tan, scruffy-jawed, and with a mop of perfectly mussed, surfer-blond hair, Dundas grins and poses for pictures as excited ladies in Pucci scarves crowd around him. "He's such a rock star!" marvels one onlooker.
Does he feel like a celebrity in situations like this? "Not at all, actually," says Dundas, his hands stuffed in the pockets of his black jeans as he regards me through his signature pink-tinted sunglasses, which remain on his face throughout his appearance. "I feel a bit like a shy school kid." He speaks in a husky voice with an indeterminable accent, owing to his half-American, half-Norwegian upbringing. He now resides in Paris and commutes to the label's headquarters in Florence several times a week ("I usually fly commercial," he assures me).
Dundas is technically here today for charity, promoting a special-edition Pucci T-shirt for Saks' campaign to raise money for breast cancer research. How would the Pucci woman integrate such a garment into her wardrobe? "She would probably like, throw a tuxedo jacket over it, maybe chop off the sleeves, and either wear a little skirt with it, or a pair of shorts," he says, without missing a beat. He pauses, then shrugs. "That would be my guess."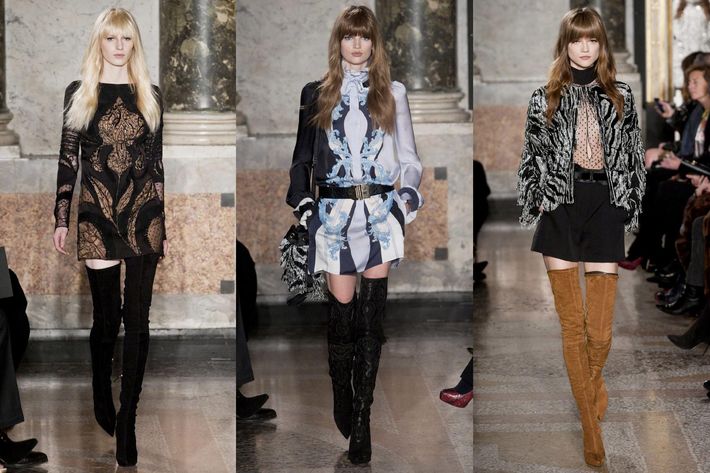 Indeed, Dundas does not want to embody his muses so much as he wants to admire them. "I don't imagine myself as the Pucci woman at all. I'd rather go out with her," he says. In other words, he wants her to keep some mystery. 
But the crowd at Saks is not interested in being mysterious. One woman takes a silk scarf out of its plastic wrapping and bestows it upon the designer, explaining that she made it herself and wants him to have it. (He politely accepts.) Loyal Pucci shoppers line up to shake his hand. 
What does Dundas like best about getting to mingle with his customers? "The diversity. It's not limited to a certain type of woman," he says magnanimously. "Which is my approach to women anyway — I want every woman to feel beautiful and desirable." If every woman could only buy one thing for this fall, he recommends thigh-high boots. "Because it makes the look come together in a different way. It makes girls feel sexy, and men think that they are as well, and that's not such a bad thing."