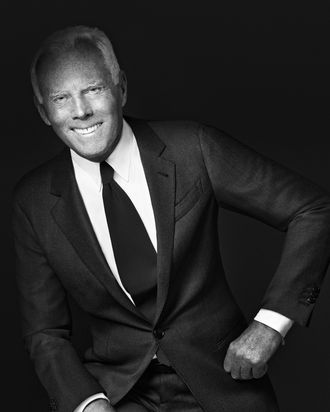 Photo: Courtesy of Armani
When Giorgio Armani's latest campaign for his Made to Measure line was unveiled last month, something surprising happened: The loyal unofficial spokesman of Milan Fashion Week opted to appoint himself as the face of his own campaign, looking dapper and cheery in a single-breasted wool suit in a black and white self-portrait (snapped by a camera using auto-timer) in a studio in Milan. In an exclusive interview, the Cut caught up with the man who does it all — design, style, model, and photograph — and spoke to him about the campaign, his thoughts on the navy blue T-shirt look that he accidentally cultivated, and his favorite up-and-coming designers who presented at Milan Fashion Week. Excerpts below:
You designed, modeled, and photographed your own campaign this time around. You've previously mentioned that the image of you in the campaign is "testimonial." You're offering a different side of yourself than what the fashion world usually sees — but could you expand on that thought?
The idea was to communicate more directly with my public: This makes a message more effective, in my opinion. If the designer shows his face and is physically present, that means he truly believes in the project. It's a significant, strong action, and one that calls upon an emotional aspect of the dialogue between the designer and his public. It's a spring of identification that is suddenly released.
How long have you been interested in photography?
I have always been interested in photography. It is part of any contemporary fashion project. It creates a world and various characters. I particularly remember our first advertising campaign: It was for the Giorgio Armani men's fall/winter collection 1975/76, shot by Aldo Fallai. Those years were full of hope. It was a period when we realized that there could be a new type of aesthetic — one that would exceed all the stereotypes of its kind and express a nonchalant, contemporary elegance. Seeing the result of this was exciting. Since then, I have always worked with photographers who have known how to interpret my world, each time in a new way.
Did you style yourself as well?
Of course. In the photo, I am dressed as I would be in real life, and I used the automatic timer function. The idea was precisely to obtain a real, natural result.
How did you prepare for this photo shoot? Did you work out more often than usual? Any grooming routines?
I relied on my usual routine, nothing special. I believe in the motto, "A healthy mind in a healthy body." That's the best beauty secret around.
What are your fitness and self-care rituals on a day-to-day basis?
I get up at 7 a.m. and go to the gym every day for my training session, which is extremely satisfying and which I never miss, not even when I go on holiday. I work hard: Hard work keeps you fit.
You've become known for your navy shirts. How did your "work uniform" first come about, and do you think you will be incorporating some more suits into your everyday look?
I will certainly wear more suits – they are truly comfortable. Like all uniforms, the blue T-shirt happened by mistake, and then became my signature look. The T-shirt is a practical garment, especially if you work as hard as I do, but in some way, the color dark blue lifts it to a higher level. It expresses a sense of cleanliness and dynamism, of giving up all kinds of frill and seeking serenity. It is minimalist and elegant. It represents me.
There's been a lot of media attention about your thoughts on Milan Fashion Week and getting established Italian designers to show there. This season, there were tons of young, talented designers. Did you see it as a success?
Yes, absolutely. Milan is giving out strong, positive signals that confirm that it is evolving and changing. This season, we truly witnessed a new buzz that certainly makes me hopeful. There is still a lot of work to be done, but this is a good start.
Who are some of your favorite up-and-coming designers? Have you been keeping up with the work of any young designers in particular?
I try my best to sustain the young designers, who truly represent our future, to such an extent that I conceived a practical initiative to help them: Each season, I offer the use of my studio, entirely free of charge, to a new, up-and-coming designer. I have already involved Andrea Pompilio and Stella Jean, two young designers who I consider extremely talented, and who have a vision of fashion that is different from mine, but truly interesting and original.
What did you do post-Fashion Week to relax?
I began working on my next collection. Working keeps me in good shape.
You've modeled, photographed, designed, styled, and more. Is there anything else in the fashion world that you're looking to tackle next?
I don't anticipate the challenges that I might face in the future, but instead follow my instinct when I meet them. In everything I do.