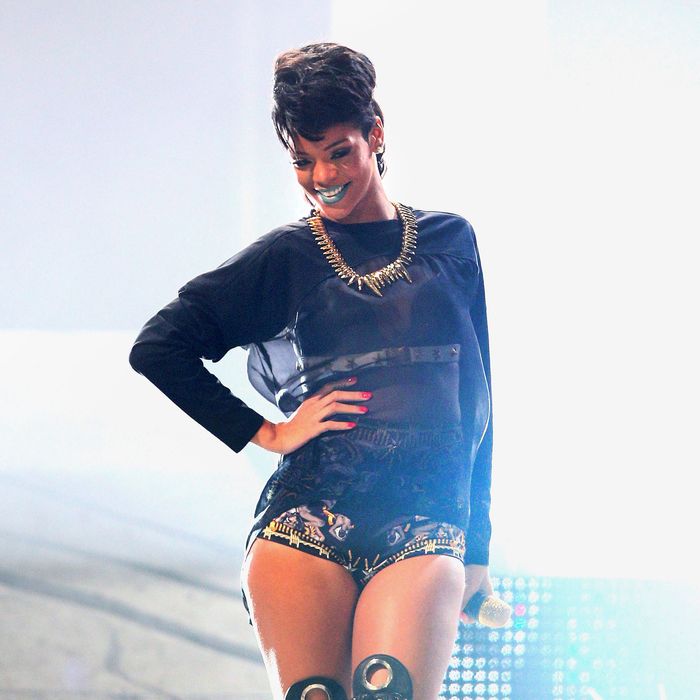 Photo: Cameron Spencer/Getty Images
It's a Thursday afternoon; have you checked in with your favorite jean thong maven and singer Rihanna recently? There's so much news.
First, RiRi is moving to New York. Soho, her preferred topless strolling ground, cried out to her. After a spin around the world on her Diamonds tour — and growing frustration with attempted trespassers at her Pacific Palisades mansion — she has decided to move to New York, reports "Page Six."
Also, she got a new hand tattoo. She got it in New Zealand, and it was distributed into the skin of her hand with a chisel, ink pigment, and a mallet. She's ready for the frustrations of big-city living now!
And what's it like to live with Rihanna? New Yorkers may wonder as they prepare for their new guest. Get out the good china and read these testimonies from five of Rihanna's co-workers in her recent "Pour It Up" video. Here's one nugget from hip-hop dancer Asha Franklin:
I was the only dancer on set that wasn't a professional stripper or pole dancer. That was a crazy thing. What made me feel better about it — on my second day of shooting, Rihanna came up to me and told me that she saw my audition tape and personally chose me. It made me feel like I was actually supposed to be there.
It's nice to know that when Rihanna chooses you, she lets you know that you were specially selected.