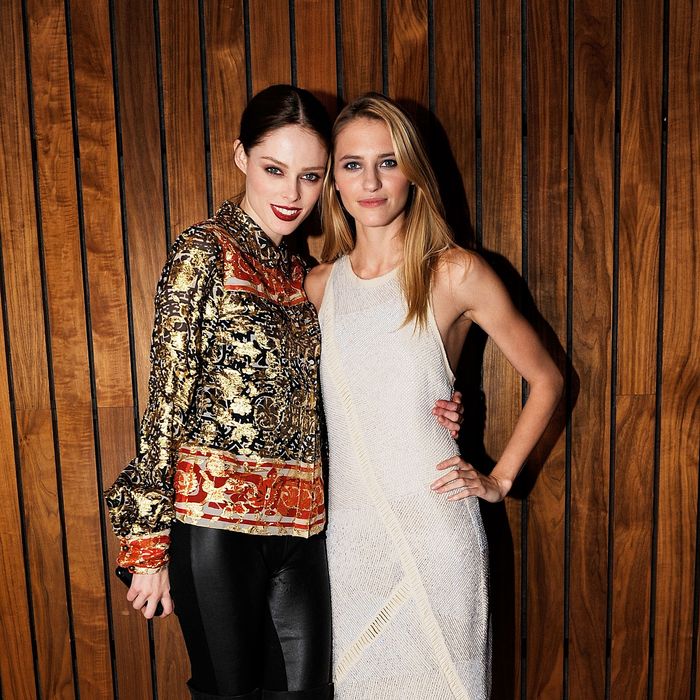 Coco Rocha and Sara Ziff.
Photo: Wendell Teodoro/Getty Images
"I started modeling when I was 15 years old," said Coco Rocha earlier this morning. "I know all too well that, until now, underage models have worked with very few legal protections in New York." Dressed in sharp plaid trousers and kill-a-man heels, Rocha was standing at the podium during the press conference for the new child labor bill, which will now protect models under 18 with the same health and education requirements that govern other child performers, like actors and dancers. Introduced to the state legislature in June, the bill quickly passed by nearly unanimous margins, and was finally signed into law by Governor Cuomo late last night.
As Rocha continued speaking, she suddenly blushed and choked up. "This is really personal and very emotional for me," she said, blinking away tears. "When I started modeling, I traveled to many different places alone, without a chaperone or any real legal rights. I'm so glad that's changing for children — and they are children — in the future." Indeed, the majority of today's models, almost 55 percent, begin their careers between the ages of 13 and 16 years old.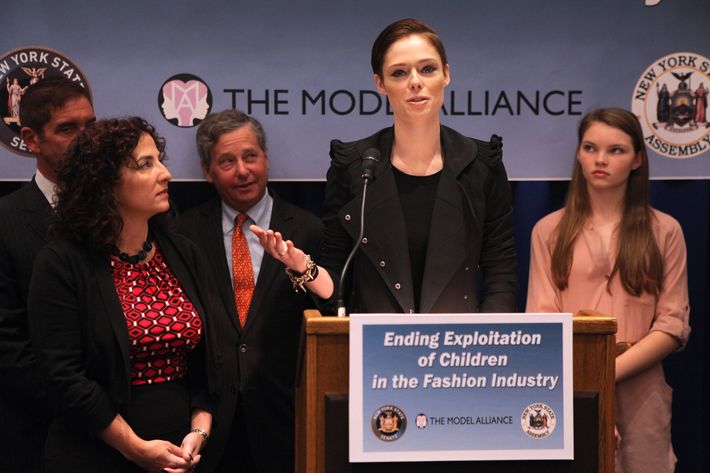 The driving force behind this bill is Sara Ziff, the founder and executive director of the Model Alliance, a nonprofit organization that aims to protect the rights of models. With the help of the Fashion Law Institute at Fordham Law School, Ziff — a working model herself — amassed the support of a number of fellow models for the bill, which decrees the following, according to a press release from the Independent Democratic Conference (emphasis theirs):
The new law will afford child models the following protections previously denied to them:

• Responsible person: A responsible person must be designated to monitor the activity and safety for each child performer under the age of 16 at the work place;
• Nurse: An employer must provide a nurse with pediatric experience;
• Education Requirement: Mandates employers to provide teachers and a dedicated space for instruction;
• Health and Safety: Employers must provide safety-based instruction and information to performers, parents/guardians and responsible person and;
• Financial Trust: A trust must be established by a child performer's parent or guardian that an employer must transfer at least fifteen percent of the child's gross-earnings into.
Members of the industry, including Marilyn Model Agency, Elite Model Management, and renowned casting director James Scully, joined the Model Alliance in supporting the bill.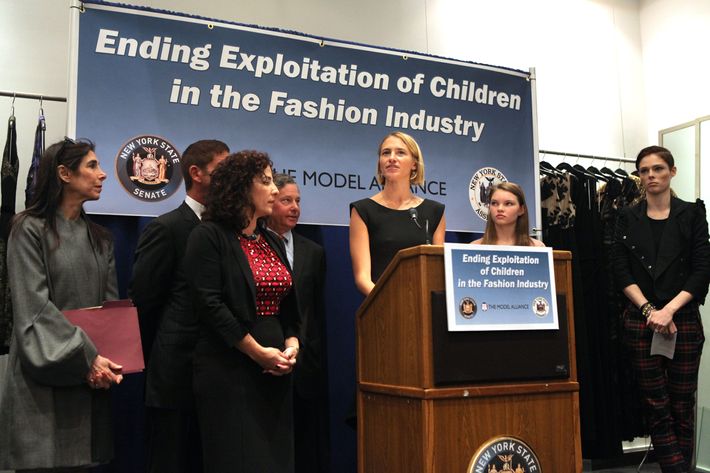 But now for the nitty-gritty: How will these new regulations be enforced? "The same way that existing child labor laws are — by the New York Department of Labor," said Senator Diane Savino, who is the chair of the Senate Labor Committee. "And those who violate it will be punished, make no mistake."
And who will be charged with paying for these tutors, chaperones, and safety measures? "Under the law, that responsibility falls to the employers — the fashion house, catalog, or magazine who is hiring the model," says Susan Scafidi, the founder of the Fashion Law Institute. "It won't be the agencies' job to provide those." And what about loopholes that state models won't count as "employees," since they're often independent contractors? "Under child labor laws, children qualify as employees even if they're independent workers," she explained. "There is no loophole."
The law goes into effect in 30 days, and it'll be fascinating to see how it affects New York Fashion Week in February.