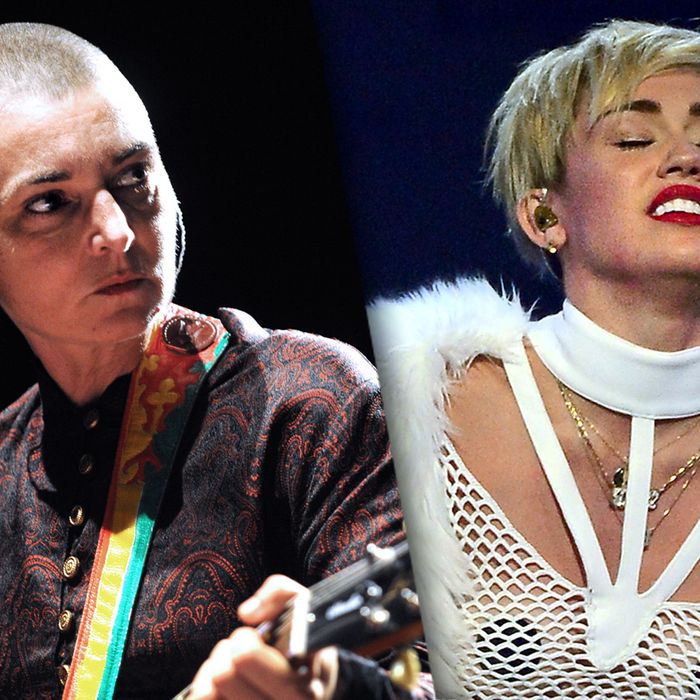 Photo: FRED TANNEAU/AFP/Getty Images; Ethan Miller/Getty Images
After Miley Cyrus waved off Sinéad O'Connor's open letter with a tweet comparing her to Amanda Bynes, Sinéad wrote "ANOTHER OPEN LETTER TO MILEY CYRUS" on Facebook. Whereas, according to Sinéad, the last one was "in the spirit of motherliness," this letter is more hostile:
Miley … Really? Who the fuck is advising you? Because taking me on is even more fuckin' stupid than behaving like a prostitute and calling it feminism.
Sinéad says she's defending the mentally ill, a group to which Miley may soon belong:
You have posted today tweets of mine which are two years old, which were posted by me when I was unwell and seeking help so as to make them look like they are recent. In doing so you mock myself and Amanda Bynes for having suffered with mental health issues and for having sought help.

I mean really really … who advises you? have you any idea how stupid and dangerous it is to mock people for suffering illness? You will yourself one day suffer such illness, that is without doubt. The course you have set yourself upon can only end in that, trust me.
In a follow-up post, Sinéad said, "Ms  Cyrus' lawyers will be contacted by mine regarding this matter." Miley responded with another dismissive backhand: "Sinead. I don't have time to write you an open letter cause Im hosting & performing on SNL this week. So if youd like to meet up and talk lemme know in your next letter. :)" Will Sinéad really sue? Can you sue someone for quoting your old tweets? What if Miley's smiley solves everything?
Sand through the hour glass, these are the Sinéad O'Connor open letters (and imagined Miley Cyrus howls) of our lives.