Photo: Terry Richardson/Terry's Diary; Rihanna/Instagram; Getty Images
This week, three female pop stars showed off their naked butts in thongs. Rihanna twerked in a denim thong for her "Pour It Up" video; Miley touched herself in a thong-style leotard for Terry Richardson; and Ke$ha posed in a thong, garter, and T-shirt on her Instagram feed. "High FA$HiON" the T-shirt jokes next to an arrow pointing to Ke$ha's ass crack.
Lady Gaga, whose early publicity stunts often involved pantslessness, has also escalated to baring her butt. Gaga wore a seashell thong for the duration of the VMAs, and has worn thongs under fishnet outfits to go out at night and to run errands during the day. The days when she raised eyebrows with mere hot pants now seem quaint.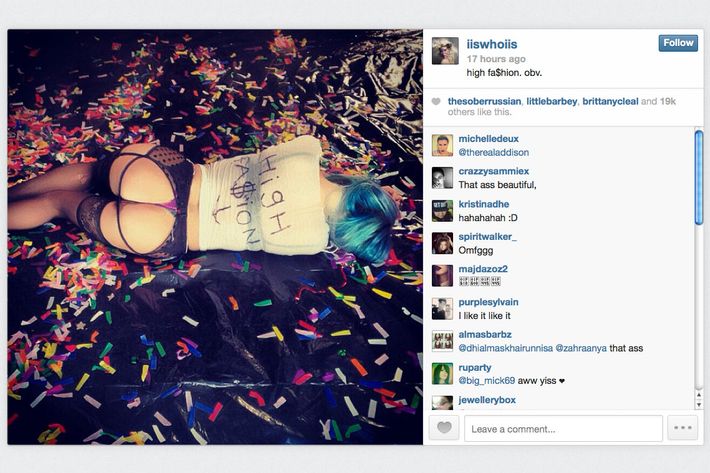 Merely foregoing pants is no longer surprising. (It's the norm for stagewear; even the hosts of award shows do it.) To draw attention, today's pop stars must fully expose their butt cheeks. Once the cheeks are out, they always seem to end up bending over and posing on all fours, leaving onlookers a mere G-string away from proctology.
G-strings, in fact, force a sort of visual proctology by drawing the eye not just to the cheeks, but all the way up the butt crack. That's why thong outfits are actually dirtier than full nudity: By framing the ass cheeks and visually pointing to the few regions of the body still considered taboo, thong outfits announce naughtiness in a way that a natural state does not. The G-string forces us to acknowledge the grossest part of the butt, its interior.
Fully nude people do not invite contemplation of the depths of their butt cracks. Thong-clad people do.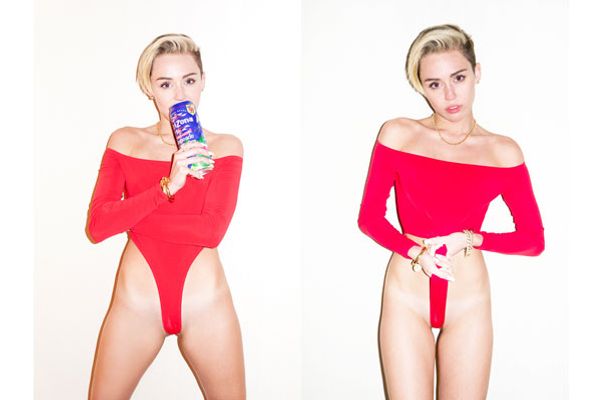 Miley's thong-style leotard (leo-thong? thong-o-tard? banana-sling-with-sleeves?) was string-shaped in the back and front. Her Terry Richardson photo shoot took advantage of both.
And so it has come to this: Thongs are the new hot pants. Luckily, there is really no chance that this one trickles down to the masses. We have subways to sit on, public decency statutes to follow, and parent-teacher conferences to attend. Lesser pop stars, however, are totally screwed if they want sexual attention but have more than an ounce of cellulite.