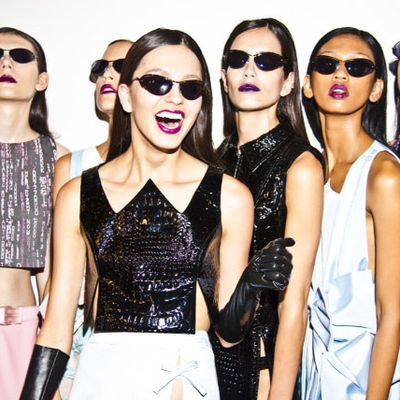 Photo: Courtesy of VFiles
Calling all burgeoning fashion designers with hopes of sending a fall/winter collection down the runway at New York Fashion Week: VFILES is working to make that dream become a reality. VFILES will be hosting the second installment of its global user-generated fashion show, VFILES MADE FASHION, in February 2014, and is accepting applications starting today.
Watch the exclusive documentary from last season below, complete with appearances by stylist and ratchet guru Lisa Katnic, and see the works of the four designers — Sam MC, Steven Tai, Ammerman Schlosberg, and Gypsy Sport — who were handpicked to debut their collections in September at Eyebeam Studios. Those who show at VFILES MADE FASHION 2 will have the added perk of being able to sell their looks at both VFILES's e-shop and in store. Send in submissions here, and, of course, best of luck!