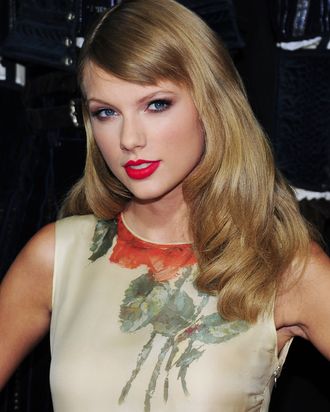 Photo: FREDERIC J. BROWN/AFP/Getty Images
Songstress of serial dating Taylor Swift opened the $4 million Taylor Swift Education Center at the County Music Hall of Fame in Nashville on Saturday. At 23, just a short time after her hello to musicianship with "15" and her farewell to youth with "22," Swift is set on ensuring her musical legacy. She hopes that her name, etched onto a building, will keep her popular with the kids for ages to come.
I had my songwriting heroes, and the fact that there's a possibility that there will be kids who are little now, and they're going to grow up and maybe list me as a potential role model or example of someone who wrote songs and showed them that they can do it too, that's an amazing feeling.
Swift's Center is a part of the $100 million expansion to double the museum's size in Nashville. The museum director, a man who comes from a long line of people who know about youth, Kyle Young, says that Swift's name will help keep the Hall of Fame relevant and attractive to younger visitors. The Taylor Swift Education Center wants to indoctrinate mini musicians at a young age. In addition to classrooms and labs aimed at adults and older teens, it features two classrooms with "spill-friendly floors" and a "Musical Petting Zoo," which surely caters to kids and has relatively resilient instruments. Swift, who gave the Country Music Hall of Fame the largest individual gift they have ever received, said that she hopes for some sort of professorial role at the Center, but not like a boring talk with slides or anything:

I hate to call it a lecture because that sounds like I'm yelling at people, but we could do a Q&A talking to students here and a songwriters discussion would be really fun to have at some point.
She has lots of life experience to talk about, after all. The Taylor Swift Education Center at the Country Music Hall of Fame will also be the school of life, she says:
I've tried to tell my fans how much writing songs has helped me with my life, and has helped me process my emotions. It doesn't matter if that's something you want to pursue as a career. I think that trying to figure out a way to say what you need to say and articulate what it is you're feeling is a way to make your life easier.
Well, we know what she wants to teach us. Now the question, what do we want to learn from Swift?