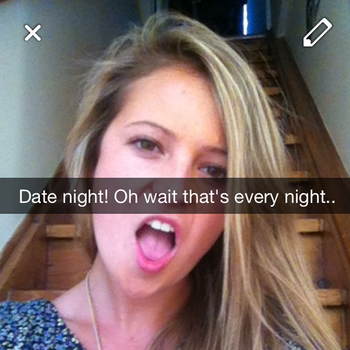 Meet Erin Wotherspoon, a 24-year-old broke actress and self-described foodie. This summer, she became a serial first-dater in order to check off her Toronto restaurant hit list and blog her reviews. "The plan?" she wrote on her Tumblr. "Join a slew of dating sites to find a man, any man, even a woman to finance this delectable venture into the maze of Toronto's hottest resto nabes." So far, she's eaten oysters, Mexican tapas, steak tartare, and smoked duck breast — and gone on zero second dates. Not that she's opposed to love. "If I did meet Mr. Right I would be receptive to him but at this point I just keep meeting Mr. Unibrow," Wotherspoon told an AM talk radio station last week.
As far as Internet phenomena go, Wotherspoon is like the 300 sandwiches woman crossed with the cunt-punting sorority e-mailer: epicurean in her mission, unapologetic in her gender politics, and unladylike in her language. After she was discovered and outed by Reddit and the Canadian news, she wrote:
"This just in, sometimes women don't have the best intentions. Toronto men of Reddit, hold on to your neck beards. This girl is looking for love in her lobster roll, not your academic achievements. Men of Toronto be warned there is a menace on the loose, she's bleach blonde, about 5'6, slim build and has an appetite for oysters. Reality check? Toronto gold diggers exist. Be afraid, be very afraid."
Plus, she has the grammar and bigoted worldview of an anonymous commenter.
"There's that awkward moment when you realize your date thinks you're Jewish … Maybe I'm sending mixed messages but I thought 'willing to convert' on my dating profile was clear enough. Sue me but I just can't do the whole hook nose hunch back thing … something about the combination of the two."
Wotherspoon's account on Jewish dating site JDate was promptly deactivated. But she was undeterred, declaring her intention to target guys who are "fresh off the boat and literally have no friend based established in this country yet."
Other suitors, she said, know all about her blog. "They know what they're getting themselves into and they still want to go out to dinner with me," she said in the interview. Like one guy who originally planned on dining and dashing on behalf of men everywhere, leaving her stranded with the bill. "He actually really liked me and we ended up spending the rest of the night together," she said. They split the check. "Maybe it's just my charming personality."
Meanwhile, Reddit continues to debate Wotherspoon's ethics. Is she a prostitute? An embarrassment to feminism? A radical gender opportunist? A person who will soon have a book deal? Anyway, she may not need to catfish recent immigrants to get a free meal at a nice restaurant much longer. There's now a very straightforward app for that.