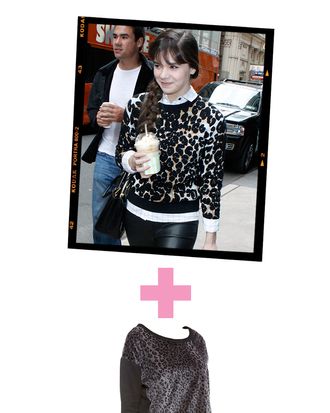 Photo: SplashNews and Courtesy of
There are some weekend mornings when you've had a few too many the night before, and it happens to be cold, so all you want to do is curl up in something nice and warm. Instead of rolling back over in bed and remaining in your pajamas, take a cue from Hailee Steinfeld and try something cozy in leopard print. In her case, it happens to be a sweater, but a fuzzy sweatshirt by the label Glamorous is an inexpensive way to mimic the look. With its brushed-felt panel, the slouchy top looks luxe despite its modest price tag. You can size down to layer it over a button-down shirt and keep the outfit polished, or embrace its oversize silhouette and wear it alone. Pair it with slinky leather leggings like Hailee does for a cool, rock-and-roll look. Or just throw on your favorite jeans and head to brunch.
Glamorous fuzziest sweatshirt, $55 at Shopbop.