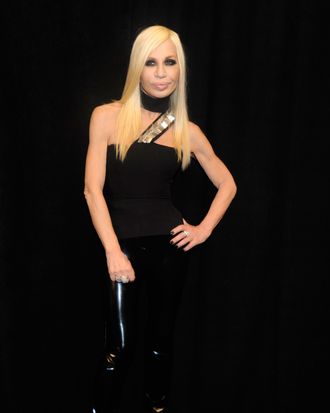 Gina Gershon.
Photo: Rabbani and Solimene Photography/Getty Images
When reached for comment about Lifetime's forthcoming Donatella Versace biopic, the fashion house released the following comment to WWD: "Versace has neither authorized nor had any involvement whatsoever in the forthcoming TV movie about Mrs. Versace." They also did not lend clothes or supply any additional information about the label to the filmmakers.
Versace's disapproval is said to be rooted in the book that inspired the film, Deborah Ball's 2010 biography, House of Versace: The Untold Story of Genius, Murder and Survival. Even though Ball, a Wall Street Journal correspondent, was granted extensive interviews with Donatella and dozens of her friends and family members while researching the story, WWD says the family "takes issue" with the final result. All the more reason to watch the movie, we say! House of Versace, starring Gina Gershon as Donatella, airs on Saturday night at 8 p.m.