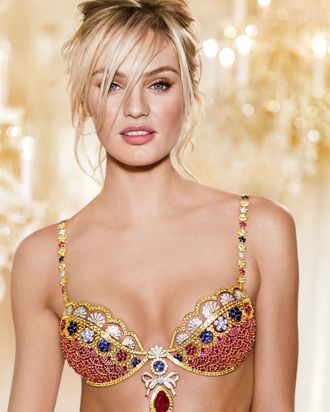 The Victoria's Secret show looms on the horizon, which means it's time to talk about who gets to model the latest zillion-dollar bra. Should you care: Candice Swanepoel will wear this year's $10 million Royal Fantasy Bra, which is worth a lot more than last year's piddling $2.5 million version, modeled by Alessandra Ambrosio. But this isn't even the most expensive one that's walked! A quick primer on the fantasy bras of years past:
First year of the fantasy bra: 1996, when it was photographed on Claudia Schiffer.
First year it was modeled on the runway: 2001, by Heidi Klum.
Cheapest fantasy bra: The first one, aptly titled the "Million Dollar Miracle Bra."
Most expensive: The $15 million Red Hot Fantasy Bra and Panties, photographed on Gisele Bundchen in 2000. To be fair, though, it had both a top and a bottom, which gives it an advantage: more available surface area for bling.
Second most expensive: It's a tie. In 2001, Heidi Klum wore the $12.5 million Heavenly Star Bra, which was covered in star-shaped diamond patterns; in 2005, Gisele Bundchen modeled the equally valuable Sexy Splendor Fantasy Bra.
Total number of fantasy bras to have ever existed: 18.
Total number to have appeared in the Victoria's Secret Fashion Show: 12.
Nouns used in the titles of fantasy bras: Diamond (twice), dream (also twice), miracle, angel, millenium, star, Harlequin, heart, holiday, fire, bombshell, treasure.
Adjectives: Sexy, hot, floral, royal, heavenly (twice).
What happens to them after the show: Most are dismantled by the jewelers who supplied the gemstones.