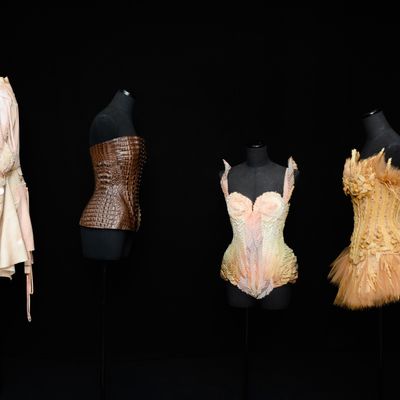 Photo: Shanae Nae/BFAnyc.com
The Brooklyn Museum's outstanding, extensive new exhibit, The Fashion World of Jean Paul Gaultier, includes many special pieces, including a metallic catsuit worn by Beyoncé and Madonna's cone-breasted corset from her Blond Ambition tour. But the most endearing item on view is Nana, Gaultier's ragamuffin childhood teddy bear, who dates back to 1957. Nana wears her original cone bra (made of newspaper by a very young Jean Paul Gaultier), a faded smear of pink lipstick, a tattered tan coat, and the stunned stare of a teddy bear that finds oneself in a museum's glass case.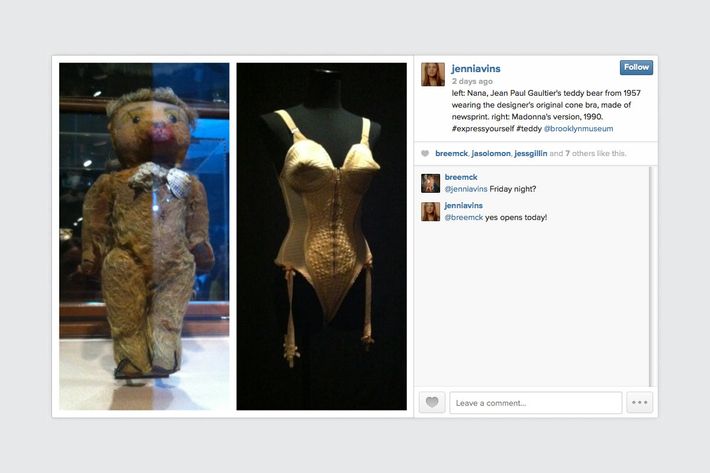 "Honestly, I never thought to make an exhibition in a museum," said Gaultier in his heavily accented English at the exhibit's opening reception on Thursday night. "For me it was for dead people, but in reality, no, it's not for dead people. We make it very lively." As for its location, he added, "I should say that Brooklyn is more hip than Manhattan." And it definitely is now, at least until the exhibit ends in February.
The Fashion World of Jean Paul Gaultier is on view at the Brooklyn Museum, October 25, 2013 – February 23, 2014