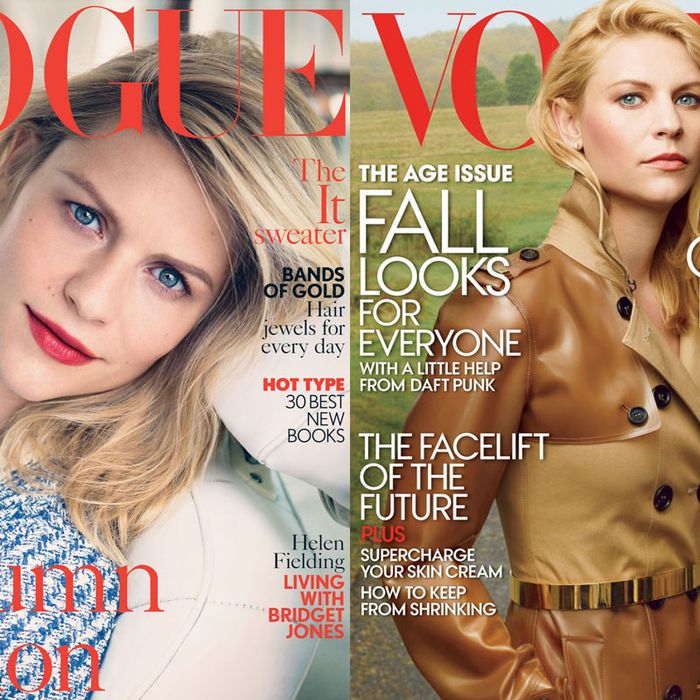 British Vogue vs. American Vogue.
Magazines are always battling over who gets to put which celebrity on their covers, and American Vogue usually wins. But just because they get a celebrity first doesn't mean they get her best. Their August cover (above, right) featured Claire Danes, shot by Annie Leibovitz and pegged to the forthcoming season of Homeland. Then British Vogue got ahold of her for their November issue (above, left), which came out today — the same week as Homeland's season premiere. Because it's a Friday afternoon and these matters just beg to be discussed, let's compare them, shall we?
For the U.S. version, Danes stands on a paved country road in the middle of a soggy field, wearing a partially rubberized Burberry trench and looking luminous but rather aggressively contoured. In standard Leibovitz fashion, she is pale, almost ghostly, and her surroundings are a vivid green. Her hair is lank, tousled, and tucked beneath the collar of her coat. It's a striking picture, but despite Danes's casual "I just went for a walk in the countryside on a drizzly day" surroundings, she doesn't look very comfortable.
Probably because they knew they had to take a different approach, British Vogue had Nathaniel Goldberg photograph Danes in a snuggly blue tweed coat that brings out her eyes. Unlike their American counterpart, they let her keep her moles, and matched her cherry-colored lipstick to the cover text. The headrest she's leaning against would suggest she's in a car (probably an Audi), which is odd, but it's such a closely cropped shot that you hardly notice. Her face is slightly flushed, and she looks warm and cozy.
Each cover is representative of the magazines' respective styles — American Vogue tends to show people from the hips up (which has the added benefit of showing more clothes), while British Vogue often crops in on the face. In this case, the Brits' approach clearly wins. But let's give American Vogue a few bonus points for their July 1998 Danes cover, which is adorable.