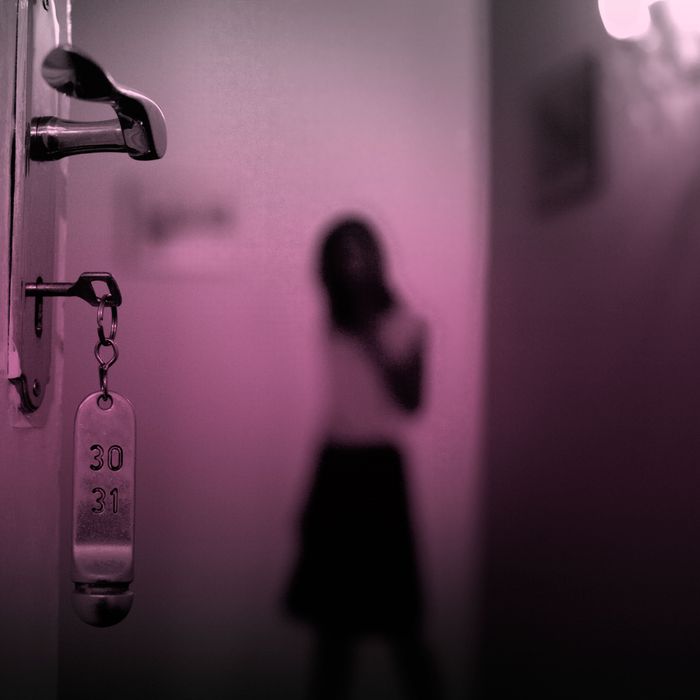 Photo: Ragnar Schmuck/Corbis
Do you like having your nipples sucked and played with? Also, you should visit the DDR Museum while you're in Berlin. It's a good glimpse of East Germany under Communism. Let me know if you're interested in meeting up. Cheers, Ben.
Surprisingly, this was not an e-mail from some savvy spambot who knew my vacation whereabouts, but an actual response to an ad I'd posted, looking for a guy who could organize a gang bang for me in Dublin, Ireland, the next stop on my not exactly Eat Pray Love-style European adventure. And it was the odd juxtaposition — of filthy flirting combined with tourism suggestions — that made me certain Ben was just the man for the job, even before I saw his photos.
I knew from experience that fantasy-type scenarios tend to be far more sweaty than sexy when they're translated to the real world. I'd had threesomes; I'd been to a sex party; and in the moment, those experiences were more anxiety provoking than anything. But I still found myself going back to the memories again and again, years after the fact. Pushing my limits and crossing things off my sexual to-do list was a turn-on in itself — a sign that I was a woman who went after what she wanted and wasn't afraid to get it.
Still, at age 28, a gang bang had eluded me, even though it was a fantasy guaranteed to get me off in five minutes or less, no matter what. I'd never known how to go about organizing one. For one, I worried about safety; finding someone who wasn't going to kill me was clearly a top priority. But I also wanted to do it with someone I genuinely liked. While anonymity is fine in fantasies, in reality, you have to at least have some sort of conversation with these people. At the same time, you don't want to see them in the subway or run into them in a corporate elevator.
On a monthlong research trip in Europe, I came up with a solution. I was  staying in Berlin, and a short visit I'd planned to Ireland would provide ideal gang bang conditions: plenty of free time, no attachments, and access to friendly strangers. So I started flicking through the profiles on FetLife.com, a kinky social networking site, and braced  myself for a flurry of cock shots — not tourism tips — in my inbox.
When I got Ben's message, I responded immediately, thrilled when his photos showed a cute, rangy, early thirtysomething man. He suggested we meet at a central pub for a drink, so we could both determine whether we'd want to move forward.
When I got to the pub, I spotted Ben with his back to me at the bar. I tapped his shoulder, and we exchanged an awkward hug. Then, I ordered a beer as we launched into a conversation circling around the entire reason we were meeting: That in a few days, I was going to have sex with him and four, five, or possibly six of his friends. We talked about work, about travel, about bad dates we'd both recently been on. We ordered more drinks, which turned into dinner, which turned into me climbing onto his lap and making out with him. Quickly, I invited him back to my hotel for a hookup, even though that hadn't been the original plan for the evening.
"Think you can handle four guys?" he asked, after we were naked in bed together.
I raised an eyebrow. Besides the flurry of e-mails, it was the first time we'd actually discussed what would go down. He explained he had a loose group of friends who did this at times, when they weren't busy with work or travel or — yes — girlfriends. That it was all very respectful, very much centered on me, and that they wouldn't ask me to chip in for the hotel room.
The next weekend, I headed to the hotel he'd set up, checked in, and, as per his e-mailed instructions, bought a bottle of wine and nervously checked my e-mail. At eight o'clock, as planned, I heard a knock on the door.
It was Ben, surrounded by four men. I stood there in a white tank top sans bra and a pair of Bikram shorts as we all introduced ourselves. I asked the group if anyone wanted a glass of wine.
In response, I was shoved to the floor. Before I knew it, I was sucking one guy's cock while another guy fucked me from behind. I kept glancing toward Ben, who nodded at me encouragingly.
"Go on, then, fuck your favorite," one of the other men said, laughingly nodding toward Ben.
I reached toward Ben. At one point, I was getting fucked by two guys at the same time, while I was sucking off a third. This was my fantasy, come to life — and while it was hot, I was all too aware of my hip feeling overstretched and achy, the impossibility of sucking in my stomach, how the angle I was in was certainly unattractive, and the fact that all too soon, this would be over, and I wasn't even close to orgasm.
It was too crowded, too busy, too concerned with making sure the hotel chair was covered with towels to avoid any stains. I was thinking of whether I should have made a sexier Spotify playlist, whether anyone in the other rooms could hear us, and how, exactly, I'd know when it was over.
A few more positions, and then it was done. The guys finished on my face and my chest (at my request), only some got in my eye — and when I looked up, on my knees with a circle of men surrounding me, Ben's face was full of concern.
"Are you crying?"
I shook my head. The guys were pulling on their sweaters, talking about going out for drinks, pulling money from their wallets to pay for the hotel room. I was exhausted, with the beginnings of a pounding headache starting at my temples. It felt like the moments in the early morning before a hangover fully hits; when there's nothing you can do but wait to see how much damage a night of hedonism has wrought.
One by one, the guys left, with Ben apologetically explaining that he had a work project to finish up that night. If this had been a one-night stand, the statement would have shattered me. Here, it didn't. This was neither of our "real" lives; we would never have a relationship.
As the door closed, I felt a combination of relief and euphoria. I'd pushed my boundaries, crossed something off my list, and gotten what I wanted … even if I hadn't gotten off. I considered it a success.
But it had been exhausting. In less than an hour, I'd added four more names to my list of sex partners. Or rather, I would have added four more names if I'd even remembered the names of Ben's friends. Somehow, in the pressure to be star and director of my fantasy, I'd missed out on being a full participant — one who was able to enjoy everything in the moment.
Maybe that's inevitable. These days, a few key memories of the gang bang I arranged will flit through my mind as I'm fantasizing, and they're as amazing as I'd hoped they'd be. Which is good, since I'm never, ever arranging a gang bang again.