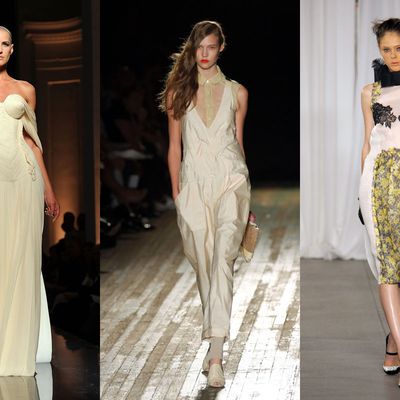 Eve Savail, 16-year-old Karlie Kloss, and 18-year-old Coco Rocha.
Photo: Getty Images
Last week, Governor Cuomo passed new state legislation that will protect models under the age of 18 with the same laws that govern child performers. In addition to other requirements, the law states that child models must be accompanied by a designated chaperone at all of their work commitments.
Industry folks have been overwhelmingly supportive of the new rules, but what exactly do they mean? Will fewer young models get jobs? Or will more underage models bring their moms backstage? Everyone seemed to think the latter was a great idea, although not realistic for everyone — what about moms who work, or can't afford to travel with their daughters? (In many cases, these teens are sending home paychecks to support their families.) Read on for reactions to the new law, and keep your fingers crossed for a forthcoming Model Moms reality show.
Karlie Kloss, model
"Part of the reason why I'm where I am in my career is because I had the support from a lot of people, including my family. I'm 21 now, and I started [modeling] at 15, and I was unbelievably lucky to have my mom or someone with me all the time, which isn't always the case [for younger models]. This new law is trying to protect the girls that aren't as lucky as I was to have a supportive family member, or a supportive team around them…. I think it's something that has already been enforced in Paris for many years. When I was in Paris [at age 15], I was limited to the number of shows I could do, and the number of hours I could work. I had to document every minute that I was in a fitting, in a casting. So it's good for these young girls to have a law to protect them from the hardships of this industry."
Hannelore Knuts, model
"I think the girls need to be protected because they really want to start early on. It's good for the little girls to know [that they] can wait a little bit. You need to be mature to step into this business. It's very hard. I was 'old' when I started, at 20. And I'm very grateful that I was that old — but still, you're naive, because it's a world that you cannot compare to anything you know, so you are young and immature no matter what age you are when you start."
Jay Manuel, stylist
"I'm very optimistic that it's going to affect the business in a positive way. First of all, I've always believed that young models should have a chaperone. Unfortunately, there are those parents out there, that if they were not available, they would just rely on the agent, just say, 'Oh yeah, that's fine.' But I really do think with how busy things can be on set, and you know, kids really having to be chaperoned in that environment, the parents should be there."
Georgina Chapman, designer, Marchesa
"Oh, I think there absolutely should be a law. These are young children working. Although it's great for them to have the opportunity to build a career, I think there needs to be some parameters to take care of them."
Coco Rocha, model and member of the Model Alliance
"I'm sure [the law] will bring in the crop of moms [with their model daughters], and you'll also have your crop of on-staff handlers whose whole job is just to watch over the girls. But stage moms have been around always. I remember when my mom was around, there were a ton of them. Hilary Rhoda's mom, Chanel Iman's mom…. There are always a ton of moms. My mom even made friends with the other moms. Hilary Rhoda's mom and mine wanted to make a book about how to get backstage [at different shows], and literally each chapter would be about a different designer — Chanel, Prada, Gucci — and tell you the secrets of how to get backstage. I don't know why they never did it. It was almost like high school for them, because some moms clicked, some moms didn't click. That would have been a really good TV show — like Dance Moms, but Model Moms.
Ève Salvail, model 
"I hadn't heard of the law before now, but it's good. I agree 150 percent. Back in my day, mothers used to travel with their kids. My mother traveled with me at the beginning of my career and I thought it was great. I asked her to come and assist me, and later on as I grew older I would hang out with the moms and tell them what to look for. To have your daughter — who you want to protect — in this industry you don't know, that can be scary. And moms are great. Moms are needed."
With additional reporting by Vanessa Rae.