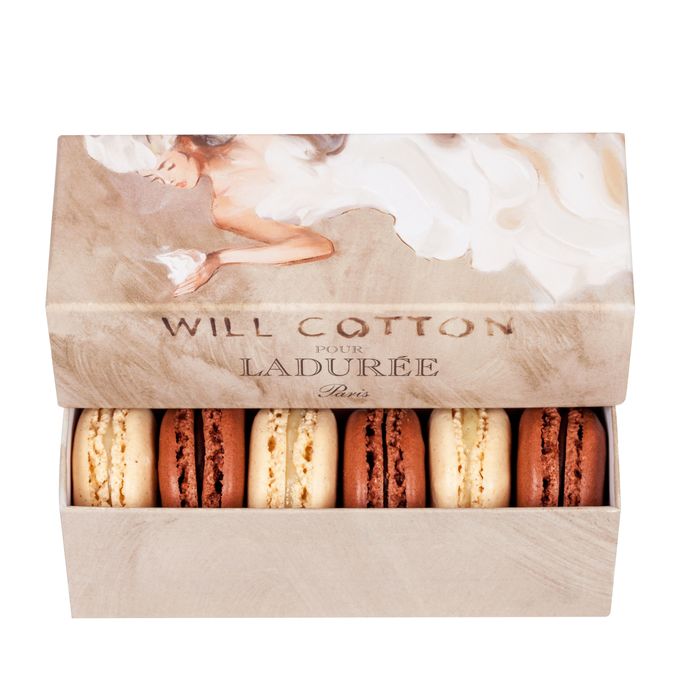 Photo: Courtesy of Laduree
At this year's Miami Art Basel, dessert-loving artist Will Cotton will be releasing a new piece of work. Although he frequently uses edible sweets in this work to explore consumer longing, Will Cotton and Ladurée are partnering in a collaboration they hope will drive literal consumer longing.
Their collaboration will be a new printed box featuring one of Cotton's favorite models, Hannah Cohen, wearing a whipped-cream dress, and it will sell at Ladurée's new Lincoln Road store. This is not the first time that Ladurée and Cotton have worked together. In 2005, Cotton went to Paris to learn about macaron baking directly from Philippe Andrieu, Ladurée's pastry chef, for a landscape he was creating featuring macaron trees. At the time, Andrieu and Cotton had bonded over "the fact that neither professional nor amateur has figured out how to get their ginger macarons to taste like real ginger." It appears they conquered the challenge since their limited-edition flavor will be ginger-infused whipped cream. Elisabeth Holder, Ladurée's owner, in talking about their first artist collaboration, calls it naturally sweet, describing macarons as "art éphémère. Read on for Will Cotton's take on why he sees macarons as quintessential and his favorite Halloween candy.
We know from a Times article that you came to Paris in 2005 to study pastry with Ladurée — how did that experience inspire your current collaboration?
I've become interested recently in having a two-way dialogue with those cultural points of reference that have been an influence on my work. I've looked at Ladurée's design and packaging for the last fifteen years and often made use of their particular aesthetic of opulence and beauty in my paintings. My discussion with Ladurée's head chef in 2005 was motivated by my desire to make an entire garden of macaron "trees," but in the intervening years I've introduced more figures and recently fashion into my paintings. So when Elisabeth asked me to suggest a new macaron flavor, to be accompanied by an image for the box, I thought of the whipped-cream dress. Probably the right thing to wear in a macaron garden.
Artistically, how do you see macarons compared to other sweets you have worked with?
Macarons are the quintessential confectionery delight. In the macaron, the color, texture, and flavor become so much more than the sum of their parts. And since the flavors aren't dictated by the cookies' form, each one becomes a vessel of endless possibility for the most fantastic flavor imaginable.
What is your favorite macaron flavor?
Pistachio, the perfect color and flavor combination.
You're known for examining the interplay between sweet and cloying, using pastry. Did you explore this in your work with Ladurée, and how so?
Since I've been using pastry as a metaphor for everything pleasurable, I'm really only interested in the most extreme level of sweetness. I think the girl in the whipped-cream dress qualifies on that level.
What is your favorite type of Halloween candy?
I still love candy corn the best.
What type of candy are you giving out this year?
It's more about what I'm getting! I'm going to a costume party where I know there will be all kinds of candy.