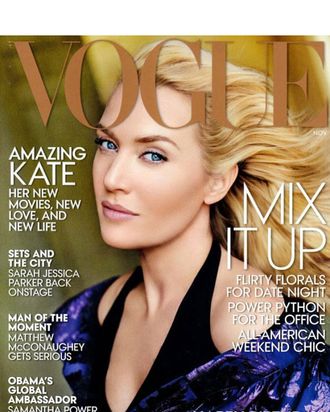 Kate Winslet is Vogue's November cover girl, and the image has been airbrushed to the point of resembling a Renaissance painting. She is ivory skinned, rosy lipped, and sparkly eyed, gazing at Mario Testino's camera from beneath an arched eyebrow, her pregnant belly cropped out of the picture like Kim Kardashian on the Met Gala red carpet. Despite her case of disappearing laugh lines, she looks very pretty in a Disney animation kind of way, and the accompanying spread has dressed in a number of regal, André Leon Talley–worthy robes.
But most intriguing of all is Vogue's online blurb, which reveals that Winslet got in a squabble with Testino on the set:
Vogue's cover shoot is wrapped, and the voluptuous, golden-haired odalisque who just finished up a steamy London weekend (long days with nice food but no AC) smoldering for these pictures has disappeared. In her place is a feisty little madam in a maternity dress and flip-flops, who is in a ding-dong spat with the photographer. When she flounces away, he hollers at her disappearing back, so she spins around and yells at him in a London-street voice: "Actually, Mario, do you even know how to take a fackin' photograph?" Then she picks up a hand mirror, sits down, and starts pulling out her own eyelashes. 
Hilarious! Apparently everyone else thought so too, and laughed at her, which is the worst thing to do to an angry person, particularly a pregnant one. Maybe she was prematurely mad about all the airbrushing, which she's previously denounced. Either way, she clearly lost the fight.