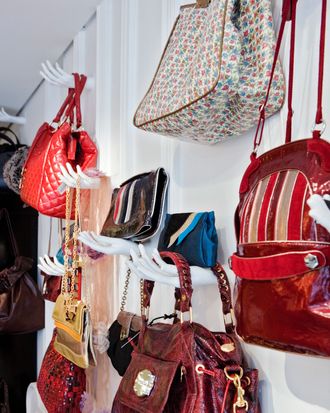 Photo: Alex Robinson/Corbis
A woman who may well be the most prolific designer handbag thief ever has been sentenced to a year and a half in jail. Averaged out, 547 days in jail is roughly half a day per high-end handbag purloined by this master thief.
Jayne Rand had a haul worthy of a conspicuous consumption-centric verse from a Top 40 song: Mulberry, Burberry, Gucci, Dior, Prada, and Louis Vuitton. The bags had a combined value of between $500,000 and $800,000 and cost only three years of the 48-year-old woman's time.
What a steal! How did you get those bags at such a bargain, Rand? Well, well. She just walked into a store all casual, like, hey, it's a Tuesday. She would enter without a bag, realize that she needed a bag, select one that seemed fancy, and saunter on out of there. She was caught red-handed on her 905th attempt. Prosecutor David Wooler said she "told police she needed money to fund her lifestyle."
It's all in the approach: Walk in like you own the place, walk out like you own a fantastic new accessory. Return home to your hundreds of other new accessories and think, You know, I could sell these to fund my lifestyle. What lifestyle is that? Just a lavish one I've always dreamed of, which is now possible with my glut of satchels.
This from her lawyer, Andrew Taylor:
She became almost immune to the feeling of wrongdoing. She was almost addicted to stealing high-value bags in an attempt to keep the ship afloat. She never expected to find herself in such dire circumstances and out of desperation took this course of action.
She admitted to selling 800 of these on eBay, without her husband or two grown children realizing what was afoot. Neighbors too were absolutely appalled. One was quoted as saying, "She is not the sort of person you see with a new handbag every week."