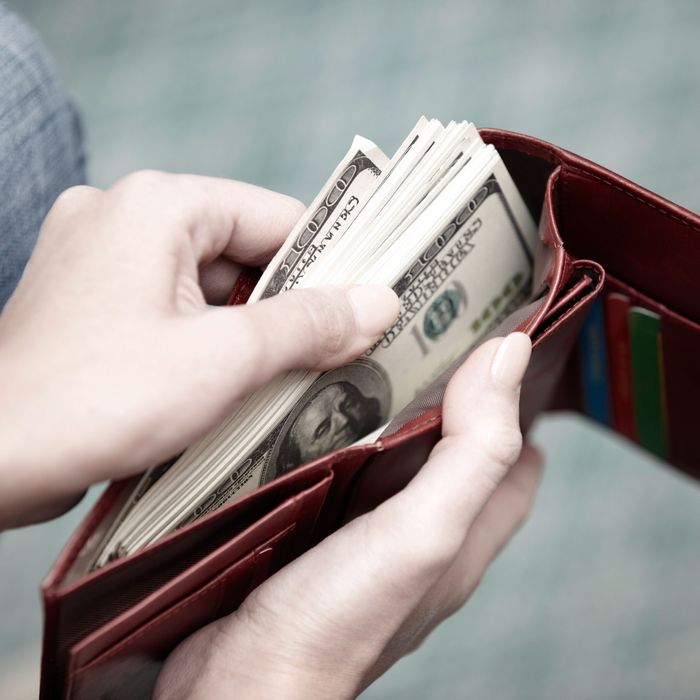 Photo: Arman Zhenikeyev/Corbis
You know that you've heard way too much about leaning in, but now there's a new prepositional problem to worry about. Did you know that as a woman, you might have the newly named Sit-It-Out Syndrome?
That's a nonfiction-best-seller way of describing the hesitation, trepidation, or "crisis of confidence" that some women experience when it comes to investing their money.
According to Fidelity's biannual study of couples and their financial planning patterns, women are letting their husbands handle investments, even more than they used to. While women increasingly say they're in charge of the day-to-day financial decisions (up to 24 percent from 2011's 15 percent), and even long-term retirement planning (up to 19 percent from 9 percent in 2011), they also say they're hesitant to invest their savings. The study showed that younger women, especially, are more deferential to their partners.
Carrie Sloan of LearnVest writes about women who have saved a significant amount of money yet are hesitant and fearful about investing their hard-earned cash. Speaking to these women, who range from Fortune 500 executives to middle school teachers, she found that reasons "ranging from fear to self-described 'paralyses'" stopped them from moving that dough over to the stock market. Lauren Brouhard, senior vice-president of retirement at Fidelity Investments, calls it "a crisis of confidence for women," even though once women start investing, they're usually better at doing it because they aren't as risky.
Here's what a woman with $75,000, literally in the bank, said:
I know I could get more return investing, but I don't know where to begin. I am frozen by my lack of knowledge and my insecurity that, at my age and income bracket, I should have a clue.
"Never let the fear of not knowing something stop you from learning it," said the inspirational message on your bag of tea this morning. If only you had read it.
Meanwhile, another woman with a quarter million sitting in the bank says that headlines about finance-industry shadiness are a source of concern:
I see other mostly young, single women who either don't have anyone advising them or, like me, feel scared. We live in uncertain times of re-orgs, collapsing banks, and the highest number of unemployed peers I thought I would ever see—you just never know where you'll be, and you need a good plan B.
The piece suggests that because divorce rates are so high and women live longer than men, it's important they know what's up with their investments. So many fears evoked in one short sentence! No wonder some are scared off. 
Now that you've moved from being frightened about investing to being frightened about not investing, enjoy some helpful financial-planning advice from this piece. It's very sensible. If you don't have debt, if you fulfilled your retirement accounts, and you have six months' worth of emergency savings, put the rest of that money into something that will make you more money! Make your work work for you! See that money earn itself for a change! Get into ca$h-related wordplay! It'll be your stock portfolio; you can joke about it however you please.