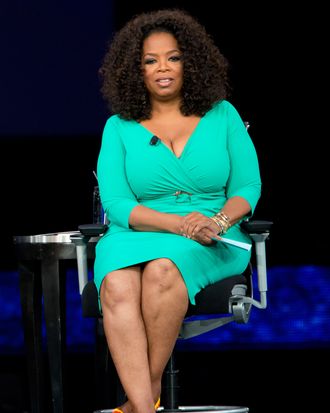 Photo: Cooper Neill/Getty Images
Oprah's got a new vision for her life and a new set of furniture to match this vision. Winfrey is redesigning the interior of her 23,000-square-foot Montecito estate so that the interior can be the best version of itself. But because your house might be its best self with all her discarded fixtures, she's auctioning them off and giving the proceeds to her leadership academy for girls in South Africa. 
In a deeply felt confessional in the March issue of O the Oprah Magazine, Winfrey announced she would revamp her home to reflect her "true" self.
Objectively, I knew my house was impressive — I mean, just about every guest I ever invited for dinner told me so as they perched on the edge of the opulent sofa trying not to get fingerprints on anything. No doubt: I owned a stately home, and I poured my heart and soul into making it perfect. The place was everything a girl from Kosciusko, Mississippi, could dream of — and then some. Still, this feeling that something might be missing never quite disappeared …
So what will reflect Winfrey's true Oprah? Mirrors? Mirrors! Will she live in a madhouse of mirrors?
She was inspired to build a reflective home not through thoughtful self-reflection, but by an interior designer and the opinion of Maria Shriver. "This house has nothing to do with you," the interior designer said. Here's the story, in the words of Winfrey:
Hey, fair enough. She was entitled to her opinion, no matter how insulting and totally ridiculous it was. She could say whatever she wanted, and it wouldn't get to me because, because …

Okay, it got to me. "Nothing to do with me? I chose every hinge, every piece of furniture in here. I picked the color of the grout! Can you believe this woman said that to me?" I told the story to my friend Maria Shriver while attempting to force a not-that-it-matters kind of smile. We were having lunch at my place with the magnificent hinges and gorgeous grout, and true-blue Maria replied, "Well, I think she's right. It has everything to do with who you thought you were, who you wanted to be, who you might've been at the time, but if it ever was really you, none of this is you anymore. Just look around."
So everything must goooooooooo! Even the hand-wrought, iron panels from her staircase are for sale. Kaminski Auctions is going to sell her furnishings and personal items at the Santa Barbara Polo and Racquet Club. She's also throwing in some unwanted items from her apartment in Chicago, her farm in Indiana, and her home on Maui. (I think MASH needs to be reinvented to reflect Oprah's properties.)
Anyway, save your pennies, because this stuff is lavishly pricey. There's a Louis XVI chest valued at up to $50,000 and a Louis XV hand-embroidered armchair valued at $40,000. But you just know that you're going to be the best version of yourself when you're sitting in those chairs.