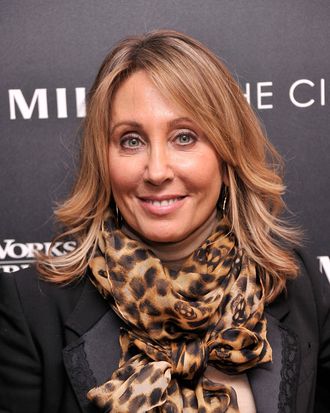 Photo: Stephen Lovekin/Getty Images
Stacey Snider, CEO of DreamWorks, is at the pinnacle of the movie industry. She started in the proverbial mail room, then worked for a variety of agents, doing outlandish Hollywood-type tasks. Some assignments? "Find Marlon Brando's phone number in Tahiti," or pick up $50,000 worth of gold chains for Mr. T.
In her contribution to The Atlantic's advice series, Snider does not reveal how to perform either of these tasks, admirable though they are. I'd hire that woman immediately! No, Snider's advice is to take everything in stride while also pushing for your career goals, without asking permission.
I always felt that my career was not going to be a straight-shot up, but more of a kind of rolling wave so that I could raise my children. I got pregnant when I was the head of production at a studio and I became chairperson at a bigger studio when I was pregnant with my second daughter. You just do it! The men don't ask permission. The men don't say is this a good time, mother may I? They just do it.
This is such simple advice — definitely easier to give than to take. But the series is titled "Advice for a Younger Me," which does give it some power. Since ascending the career ladder, Snider's worked as the president of TriStar Pictures, the chair of Universal Pictures, and now, CEO of Dreamworks Studios, where she has been since 2006. And she's directing her advice at young people coming in at the ground floor, people who have questions like, how do you know if that early grunt work is worth it?
Quid pro quo was that I felt personal satisfaction and I could see a path from the bottom rung of the ladder to a higher rung where I could have a meaningful career.
It's good to check in with yourself. Does this work make you feel that you are contributing? And each time you are sent to spend a big chunk of change on chunky chains, make sure that you can see how this will help you in the future.