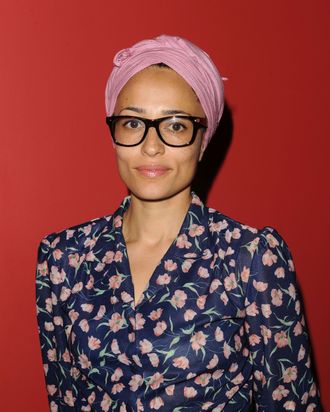 Photo: Craig Barritt/Getty Images
If you could choose a writer to go back in time and write about going on a Grand Tour, it would be Zadie Smith, right? How wonderful, I'd pick her too! And how wonderful that she has written about her version of a Grand Tour and strolling through European gardens with her father for the New York Review of Books:
Like all twenty-three-year-olds I was skilled at aligning any good deeds with my own pleasures … We booked for Florence. The hotel was called Porta Rossa. I understand it has recently undergone a transformation and now looks much like any other chic boutique hotel on the Continent, but when I went with Harvey it was a true pensione, unchanged since the nineteenth century … True, like E.M. Forster's Lucy Honeychurch and Charlotte Bartlett we did not have a room with a view — unless a patch of twelfth-century wall is a view — but I was at that point in life at which sharing a situation, albeit a poor one, even with a fictional character was pleasure enough for me.
And the rest is just as intriguing and reflective.