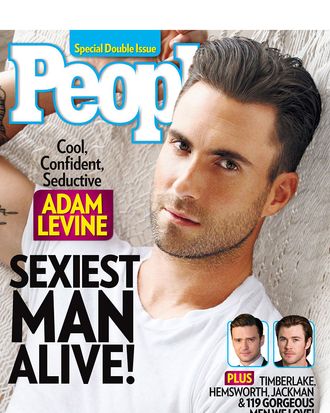 People magazine's annual "Sexiest Man Alive" issue is basically the closest thing to a male equivalent of the Victoria's Secret Fashion Show (pictures of hot, famous men with their shirts off, wheee!), so there's some universal order to the fact that Adam Levine, whose love life is inextricably linked to the Victoria's Secret franchise, gets this year's title. But still, Adam Levine? (Or, as a certain boyfriend reacted this morning, "Who?") He's become that breed of amorphous celebrity that we're not really sure which title should come first: Maroon 5 frontman, guy on The Voice, clothing designer for Kmart, fiancé of Behati Prinsloo (the third Victoria's Secret model he's dated), perfume "face," or actor (in Can a Song Save Your Life, filmed this year).
Even Levine himself was surprised he was picked:
As a musician, you have fantasies that you want to win Grammys, but I didn't really think that this was on the table. I was just amazed and stunned and it almost seemed like they were kidding, but they weren't, so that's cool.
That makes two of us, Adam. But as for personal appeal, he's got some going for him: He's "artsy," if you're into that sort of thing; he has tattoos (see also: "artsy"); he was really good at deflecting Howard Stern's disgusting questions about the weight of his Voice co-star Christina Aguilera, and he likes puppies.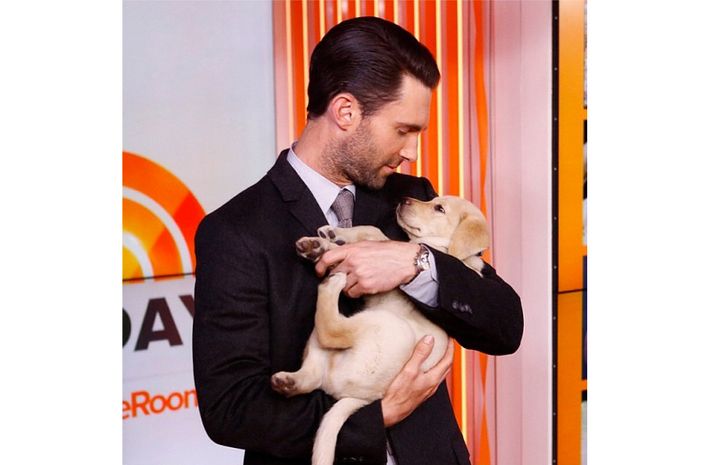 Anyway, we could keep trying to parse People's decisions, or we could just skip directly to their "21 Sexy Celebrity Six Packs" list instead. No questions there.