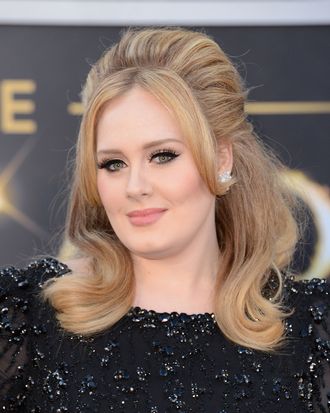 Photo: Jason Merritt/Getty Images
"Rumour Has It" (by way of the Daily Mail) that Adele has refuted offers to become the new face of L'Oréal. The two were close to signing a deal when Adele had a change of heart, "leaving the brand completely in the dark about her reason for backing out." Well, not completely in the dark.

After all, she has said this in an interview with the Telegraph:
"I think it's shameful when you sell out. It depends what kind of artist you wanna be but I don't want my name anywhere near another brand. I don't wanna be tainted or haunted."
And this:
"I don't want to be in everyone's face. I'm a big music fan and I get really pissed off when it gets like that … and I don't want people to get like that with me."
So Adele will be un-haunted by the spectral lure of a £12 million contract. If only Cheryl Cole could say the same. If Adele had accepted L'Oréal's generous phantasmal contract, she would have been replacing Cole, who is "said to be unimpressed with the enormous rose tattoo she had etched across her buttocks and lower back earlier this year," as the face of the brand. Cole's butt rose tattoo is truly gigantic, though. (No, really.)

Given that the tattoo took fifteen hours to ink, the brand should be a little impressed, right? But not as impressed as we are with Adele for turning down such a huge sum of money to stick to her guns. Add one to the continuing list of reasons why everyone loves Adele.