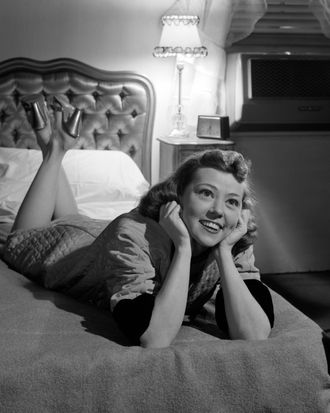 The New York Post brings news of an Upper East Side 14-year-old who embarked on a challenging project: She would dress, primp, stretch, eat, and letter-write like a teenager from the 1950s. All in the pursuit of every young woman's dream, no matter the era — popularity. 
This enterprising teen had read that another modern young woman, Maya Van Wagenen of Texas, earned a $300,000 book deal and an upcoming movie deal for undertaking this exact project! Yes, Wagenen wrote a memoir called Popular: Vintage Wisdom for a Modern Geek based on lessons she learned from a 1958 etiquette book entitled Betty Cornell's Teen-Age Popularity Guide.

Absorbing the lesson that if one follows the advice of a 55-year-old guide book, one receives a movie deal, Epstein began her project and sold her tale to the Post. Did Ella become popular? Did she learn that the quaint world of the 1950s holds many lessons for the teenagers of the 2010s? Did her hero's journey culminate in shopping trips for pearls with her grandmother?
First, she searches the New York Public Library to find "the dated book" and studies up. Then, a series of mishaps befall her. She awakens in a pile of rags after improperly setting her hair in rag curlers. She spends upwards of $1,500 on proper attire only to be told she is dressing like a "history teacher." She brushes her hair 100 strokes "even if it meant staying up an extra five to ten minutes every night." She does Pilates-like stretches in a neckerchief.

Hygiene is Epstein's greatest trial: 
This was perhaps the most laborious part of my new lifestyle. I would wake up every morning 10 minutes earlier than usual just to carry out the prescribed steps. First, I had to rinse my face under hot water, to open up the pores. Then I had to thoroughly scrub my face with soap (I used a regular face wash) for a few minutes, making sure to massage my face to keep circulation moving. Finally, I had to wash the soap off with cold water to close up the pores. The book even recommended using ice cubes to get the soap off. I did not try this … Though none of my friends noticed my new glow, my skin did feel a lot better after this thorough scrub twice a day, although I admittedly did not use a cleansing cream before the ritual, as recommended — I couldn't find it anywhere.
But her routine was not all torturous face-washing. She did enjoy the "quaint and elegant" tasks of letter-writing and pondering.
Though I couldn't help but wonder how anyone could become popular by wearing Peter Pan collars and long skirts to school. 
Have times changed? What did she learn about the nature of popularity? What lessons do days of yore hold for us now? Epstein concludes:
Although I wondered how this lifestyle could possibly make anyone more popular, I did feel a lot more elegant, composed and energized by the end of the week. 
That's what you were supposed to tell us, girl! Did you learn nothing from this authentic 1950s regime of not finding cold cream or doing rag-curls incorrectly?
If I knew there was a six-figure book deal behind a year's worth of this proper behavior, I'd be Betty Cornell's most devoted pupil. But since this idea is already taken, I think I'll adopt some of the hair and skin tips and pass on the daily ground-beef patties, rigorous primping and stiff saddle shoes.
Yes: As we established at the outset, this idea is already taken. Perhaps for her next attention-courting lifestyle stunt, she could try preparing 300 sandwiches?