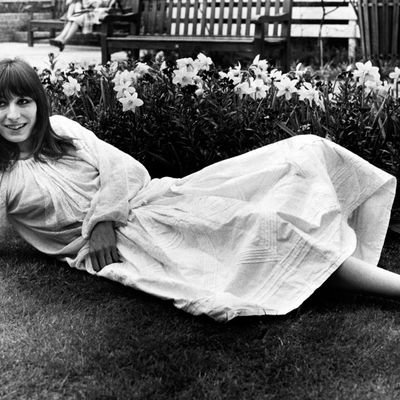 Anjelica Huston's memoir, A Story Lately Told, catalogs her relationships with booze-slinging, adventuring, womanizing, generally impossible dudes, starting with her father, John Huston.
Her father was known for his eccentric habits and an ability to wind up in every sort of dangerous escapade. In turn, Huston's boyfriends had similar characteristics — violent and passionate and demanding. There's a lot of yelling, jewelry smashing, bottle throwing, clothes destroying (on the part of both her father's pet monkey and, reportedly, fashion photographer Bob Richardson), and screaming, "Will this make you love me?" She describes one fight with Richardson:
'What have I done?' I cried, casting off my stiff python suit and standing before him half-naked. 'Tell me, what have I done?'
Entering a hotel room in a stiff python suit — my goodness! What a life. It turns out he was mad at her for not unpacking her suitcase, which is a combination of boring and crazy that's completely incomprehensible and fascinating.
While her memoir contains a plethora of compelling tales about troublesome relationships, most intriguing is a relationship she doesn't include: Huston's 17-year, on-again-off-again, relationship with Jack Nicholson goes unmentioned.