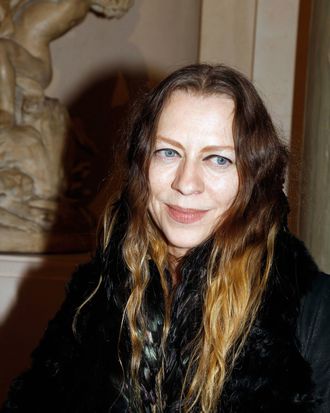 Ann Demeulemeester.
Photo: Eric Ryan/Getty Images
This week, 53-year-old Belgian designer Ann Demeulemeester e-mailed a PDF of a handwritten letter to her staff that announced she was leaving the company, WWD reports. "A new time is coming both for my personal life and the brand Ann Demeulemeester," she wrote, adding that the brand now has "its own identity and legacy that is able to continue growing with out me."
Known as part of the "Antwerp Six," a group of avant-garde fashion designers who graduated from Antwerp's Royal Academy of Fine Arts between 1980 and 1981, Demeulemeester founded her label in 1985 with her husband, Patrick Robyn. She began showing in Paris in 1992, debuting her clothes at an art gallery with a makeshift runway. Known for her punk-tinged, Japanese-influenced looks, mostly rendered in black, she has frequently cited Patti Smith as a muse. "Good fashion for me is like rock 'n' roll — there's always a little rebellion in it," she said in an interview in 2001. She has also confessed to being approached by larger labels, but turned down offers because she wanted to maintain her independence.
The majority stake of Demeulemeester's company is thought to be owned by Anna Chapelle, who has been its managing director since 1994. Patrick Robyn also owns a portion. (Fun fact: Robyn and Demeulemeester currently live in the only house in Antwerp designed by Le Corbusier.)
 
The designer's note also confirmed that the company will show men's and women's collections for fall 2014 together on January 27 in Paris.