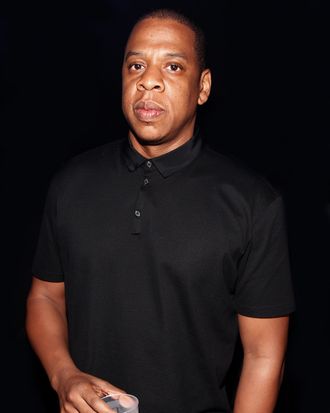 Jay-Z.
Photo: Brian Ach/Getty Images
Update: Earlier today, WWD reported that Barneys had canceled Wednesday's party for Jay Z's holiday collaboration "due to unforeseen circumstances." A few hours later, the post was removed from WWD's website. When we requested clarification from Barneys, they sent us an email confirming their plans to unveil their flagship store's holiday windows on Wednesday, with no mention of a party. Original reports of the partnership stated that "a fund-raising event for the Shawn Carter Scholarship Foundation will take place [on November 20] at an off-site event space, hosted by Barneys and Jay Z." It's unclear whether this will still happen.
This comes just two days after Jay Z issued a statement on his personal website that 100 percent of the collection's sales, plus 10 percent of all sales at Barneys stores and its website on November 20, will be donated to his Shawn Carter Foundation, which gives scholarships to underprivileged youth. (Initially, the foundation was only set to receive 25 percent of sales generated by the collaboration.) He also wrote:
[I] agreed to move forward with the launch of [the collection] under the condition that I have a leadership role and seat on a council specifically convened to deal with the issue of racial profiling … I will take this into my own hands with full power to recommend, review and revise policies and guidelines moving forward. I am choosing to take this head on.
So you can bet he approved the party's cancellation. This is one of those situations where less press is good press.