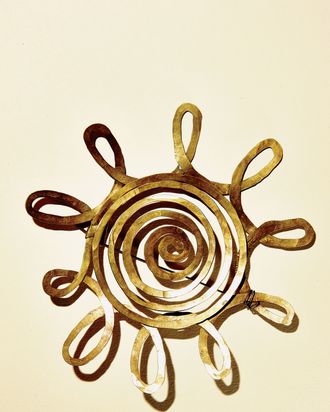 Photo: Bobby Doherty/New York Magazine
Alexander Calder's jewelry creations—which make up only about a tenth of the late sculptor's 15,000-work oeuvre—are considered something of a white whale among his devoted followers. But it's a special moment for the American modernist (unrelated to last week's headline-making lawsuit filed by his estate against a former dealer): From November 6 to December 20, Salon 94 (12 E. 94th St., nr. Fifth Ave.; 646-672-9212) will offer for sale a record 37 necklaces, earrings, and brooches like the circa-1948 brass masterpiece above (from $35,000). In addition to thirties- and forties-era pieces—rendered with the same kinetic mix of wire, glass, and hammered steel as Calder's iconic mobiles—the exhibition will include a selection of his sculptures. The event overlaps with a Sotheby's auction on November 14, featuring a dozen more pieces of wearable art by the sculptor.
*This article originally appeared in the November 11 issue of New York Magazine.