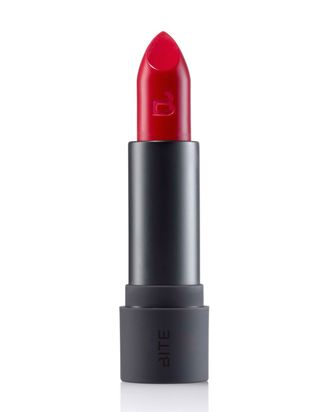 BITE Beauty has re-opened their redesigned Lip Lab. Originally a pop-up shop, the custom lipstick store is now a permanent fixture in Soho, where customers can create bespoke lipsticks based on e-mailed photographs, articles of clothing, discontinued-and-missed shades, and of course, you.
The experience begins by sitting down with a lipstick technician makeup artist in front of a stainless steel vanity table-cum-lipstick finger-painting area. "I want a perfect red lipstick that I can wear forever, in winter or summer. But I want it to be timeless," I told Brooklyn. He nodded. "No pressure!" Brooklyn began mixing from a set of twenty shade color tubs filled with primary lipstick "chocolates" of white, violet, and various shades of pink and red that BITE uses to create their shades. He started with carmeline, and added a little brick and burgundy when I requested that the color be bright and add some color and verve to my face. In three short mixes, he was done. He handed me a lip exfoliator to smooth out my lips and followed with a slim lipstick brush with my "shade." And of course, it was as promised — vibrant, impactful, dramatic, but not clownish. After approving the shade, "Kathleen's Mix" went into a centrifuge machine, where it was expertly mixed and then poured into a lipstick mold. For ten icy minutes, it froze on top of a cold plate. And then the lipstick was carefully un-molded on top of a base and delivered with a calligraphy flourish as "Kathleen's Lipstick." It was creamy, pigmented, smooth — and all mine. If you don't live in New York City, the store also takes e-mail and phone requests.
BITE Beauty lipsticks, $36-$48. 174 Prince St., at Thompson St.; 646-484-6111.