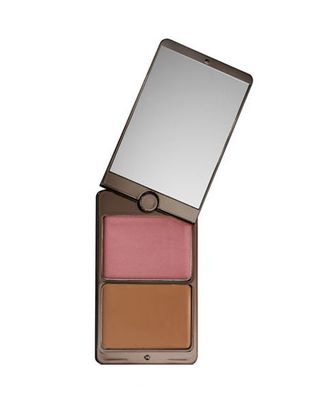 In my early beauty days, I equated bronzer with being tan. And how wrong I was. It wasn't until Jennifer Lopez entered the scene that I realized the correct use of bronzer had the potential to transform a face (and a career).
Hourglass's Illume Cream-to-Powder Bronzer Duo has the ability to make me look better immediately. A little swipe of the bronzer (the right flesh-toned mix of brown and pink) and my cheekbones instantly appear. And the second dot of pink blush right on top gives me that top-of-the-ski-slope flush. Together, it makes me look better in just two motions, and the similar undercurrent of pink in both creams make them blend together seamlessly. It comes in two colors: Bronze Light (paired with a more pearly highlighting shade) and Sunset (my favorite, to give you that tawny-cheeked look).
Hourglass Illume Creme-to-Powder Bronzer Duo, $40 at Sephora.com.