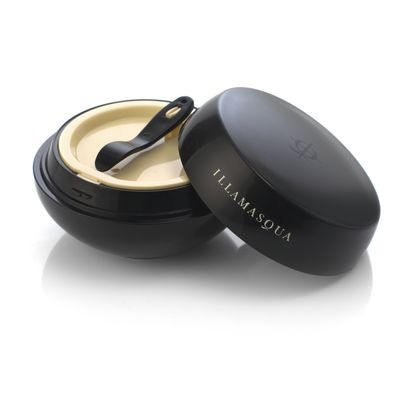 Stateside, Illamasqua is probably best known for its electromagnetic nail polish shades. But across Internet beauty message boards, innovative products like the Hydra Veil Hydrating Primer are capturing all the attention.
Lauded as one of the fastest-growing British makeup brands (with new full-service counters in the U.S. at Bloomingdale's), Illamasqua's super-pigmented, professional grade, avant-garde makeup is quickly gaining a cult following. How avant-garde? Well, apart from its firm roots in the dark 1920s Berlin club scene and fondness for "alternative cultures," the brand isn't afraid to explore the dark. In the U.K., it offers a service called "The Final Act," makeup artistry for your final act." Yes, Illamasqua wants to make sure you look good in this life and many lives after. But the Illasmasqua brand is interested in more than boundary pushing. It also promotes self-acceptance and tolerance; if Lady Gaga's Little Monsters and Katy Perry's KatyCats had a makeup line in common, it would be this one.
But back to their Hydra Veil primer: a cooling, moisturing gel form that constantly transmutes itself to a lotion. Dip the provided rubber spatula into the pot, scoop out a generous dollop, and within minutes, the gel in the container re-settles as if you never scooped it, making it hard to resist playing with. When applied to the face, that amorphous, reconstituted texture creates a uniform, unbroken base for seamless foundation application.
Illamasqua Hydra Veil Rehydrating Gel, $40 at Bloomingdale's.