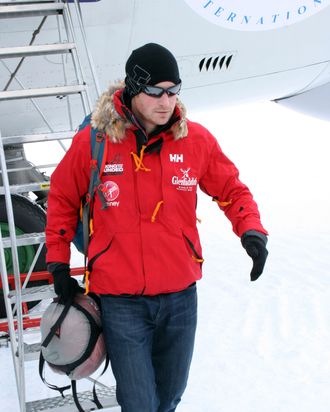 Prince Harry.
Photo: Handout/WWTW/Getty Images
Essential news on this Friday evening: Prince Harry has arrived in Antarctica for a South Pole trek, and he appears to be growing a beard. For now, it just looks like a few days' worth of ginger stubble, but who knows where he'll take it? He's preparing to endure 50 miles-per-hour winds and well below-freezing temperatures, so he needs all the facial fur he can get.
More exciting news: The trek is actually a race between three teams to raise awareness for wounded soldiers, and other participants include Alexander Skarsgård, who is a member of the American team, and The Wire's Dominic West, who's part of the Commonwealth team. Never has the South Pole sounded so appealing.