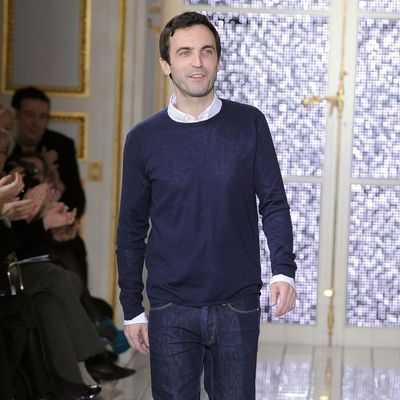 Ghesquiere.
Photo: Chris Moore/Catwalking/Getty Images
This morning, Louis Vuitton announced that Nicolas Ghesquière, former Balenciaga designer, has replaced Marc Jacobs as the fashion house's new creative director. The appointment confirms several months' worth of rumors that Ghesquière was first in line to take over the position, which Jacobs vacated on the same day as his final show for the label on October 2.
Gauging by positive responses to all the rumors, Ghesquière's resurgence will be well received. WWD has this quote from him:
Louis Vuitton has always incarnated for me the symbol of ultimate luxury, innovation and exploration … I am very honored of the mission that I am entrusted with, and proud to join the history of this great maison. We share common values and a vision.
These words should not be taken lightly, as Ghesquière made no bones about leaving Balenciaga because of creative differences with its parent company, Kering. (He told System magazine in April that he quit because of "one frustration after another.") He is still involved with a legal battle with his former bosses, who sued him for violating the conditions of his departure, presumably because he spoke so candidly about it.
Anyway, will his entourage — namely, Kristen Stewart and Marie-Amélie Sauvé — follow him to his new venture? Here's hoping for a splashy debut at Paris Fashion Week this March.