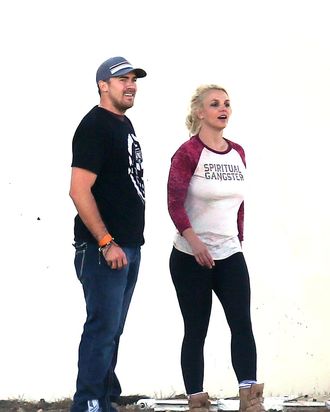 Photo: Clint Brewer / Splash News/? www.splashnews.com
Britney Spears spoke to Entertainment Tonight about her boyfriend of almost nine months, Mr. David Lucado.
Who is this David? Where does he come from? Which character would he be on Breaking Bad? What are his intentions?
Cool it with the questions: It's all chill because Britney Spears's father ordered a background check on Lucado ("My dad's a little crazy like that"). But he passed! How wonderful.
Here's Brit's character analysis of her fellow:
I'm in love… I like the fact that [Lucado is] very stubborn and he's stuck in his ways. He's just a simple man. I adore him. He's really funny and he's really passionate. I love the fact that anything he's involved in he's passionate about and it's contagious.
A contagious, simple man. What more could anyone ask for?