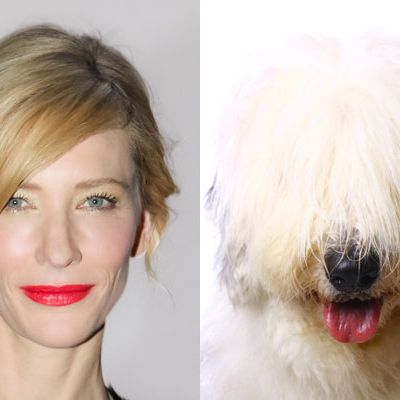 Conducting interviews about one's beauty routine — i.e., attempting to explain why you are so beautiful — is often awkward. Especially if you are a lovely, Oscar-acclaimed actress with some sense of self-awareness like Cate Blanchett.
Blanchett, who is the face of SK-II LXP, recently self-deprecated her way through an interview with the Telegraph, where she touted "sleep" and her "inconsistent" workout routine as beauty secrets — and, when asked for an anti-aging tricks, credited not "think[ing] about it too much." She also denies that she will ever be a "bronze beach bunny," and gives credit to her makeup artists for making her look beautiful despite having eyes that are "a bit squinty looking." She concludes her litany of insults by chastising herself for her lack of ambidexterity. Here's Cate:
If I try and blow dry my own hair - I end up looking like a sheep dog. I've got to develop a greater ambidexterity but I can't use the blow dryer and the brush at the same time.
Yes, Cate. We can really see how you could resemble this adorable sheepdog had your hairstylist left you to your own klutzy, unwieldy hands. It's okay, though: Even when professionally done, hair has been known to resemble a poodle's butt.