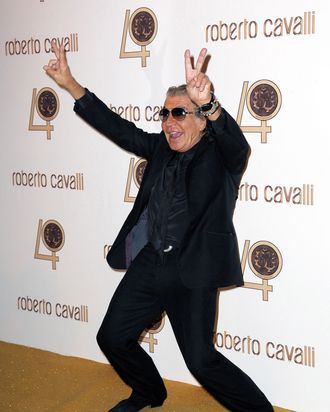 Roberto Cavalli.
Photo: Dominique Charriau
Designer Roberto Cavalli, lover of exotic birds and double denim, gave a talk at Oxford University last night about how unfashionably boring most designers are. Some choice quotes about the current state of celebrity fashion, via British Vogue:
It's not fair … Big companies pay stars to wear their clothes to wear on the red carpet. Young designers can't do that, so they will never have the same success. There is also so much advertising today, I don't like it. I don't like to suggest what a woman should wear - I want her to choose my clothes without any suggestion.
Okay. But what came next was borderline poetic: "Minimalism is boring. I am a mountain in the minimalism. Fashion that is not crazy is not fashion. And what is not fashion is American." Oh. Well, in some cases, we'd rather have our sanity.