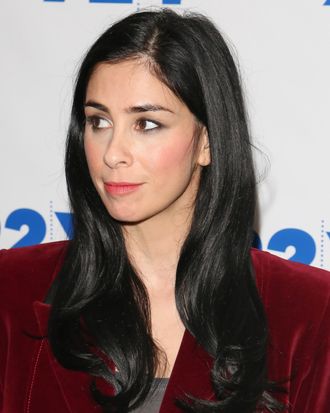 Photo: Charles Norfleet/Getty Images
Brian Lowry, a Variety writer, claimed he was just trying to save Sarah Silverman from years of "frittering around the edges of breakout success" when he wrote a column advising her to tone down her "bawdy fare." 
For a sampling, this is how Lowry begins his article:
There's something simultaneously fascinating and maddening about Sarah Silverman – graced with genuine talent and a well-defined comedic persona on one hand, and a commitment to pushing past the edge in a way that blunts her appeal on the other. Despite all manner of career-friendly gifts – from her looks to solid acting chops – she's limited herself by appearing determined to prove she can be as dirty and distasteful as the boys, an attribute very much on display in her HBO special "We Are Miracles," which premieres on Nov. 23.
He was just looking out for Silverman and would-be-raunchy women everywhere! And what did Lowry get by way of thanks for his generous mansplaining? Lowry got slammed.
Beejoli Shah at Gawker's Defamer writes:
This sort of gender essentialism is troubling coming from a layperson, but coming from a seasoned journalist at a reputable entertainment news publication? It's disgusting … After digging through more than 50 of Lowry's other reviews, not once has there been a mention of a male actor's looks in any review, positive or negative. Why now? Why is Silverman's appearance up for debate? Lowry's sexism was already reaching a fever pitch by expounding on how Silverman is just attempting to vie with male comedians, but by dragging her aesthetically pleasing face into the mix, he's essentially stating that a large part of her "talent" comes from a lucky gift of genetics, rather than years of working her ass off to become one of the most famous comedians of her generation — not just one of the most famous female comedians.
Elise Czajkowski at Splitsider writes:
For some reason, Lowry seems insistent that Silverman is a marginal figure in entertainment. He references a recent Maureen Dowd column about her by saying the comedian "still has admirers" – something her 4.8 million Twitter followers already knew. But mostly perplexingly, he seems almost angry that she hasn't prioritized fame and fortune over exploring and perfecting her own comedic voice.
Tellingly, it seems Lowry has taken this approach to woman-comedian criticism before. Ben Powers at Happy Place writes that "the guy is so limited as a writer and a critic that he threw the exact same criticism at Amy Schumer seven months ago."
There's something simultaneously fascinating and maddening about Lowry's sexist Sarah Silverman takedown in Variety. Graced with the opportunity to write for a well-respected entertainment publication, Lowry's commitment to retro criticism of a female comedian pushes past the edge of chauvinism in a way makes him seem like a complete idiot. Despite all manner of language at his disposal, he's limited himself by trying to prove he can wield criticism as well as the girls, an attribute very much on display in his Variety article entitled "Sarah Silverman's Bad Career Move: Being as Dirty as the Guys."