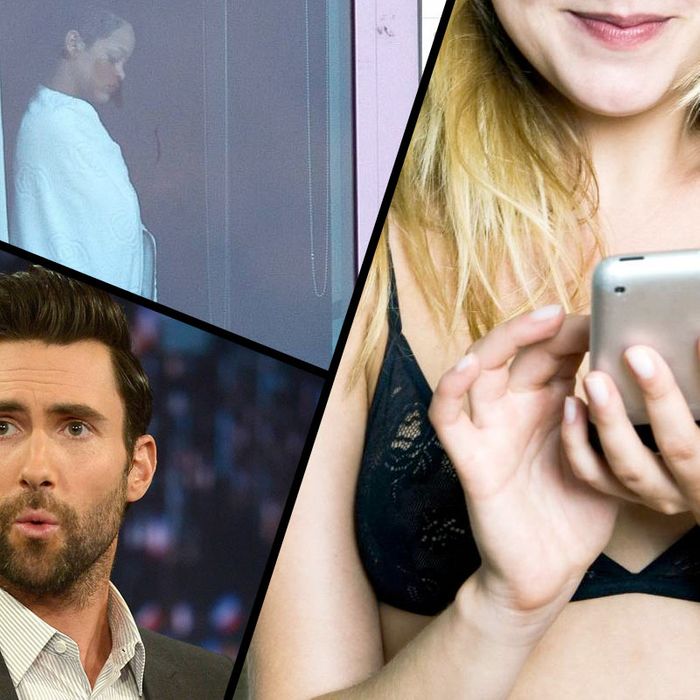 This week's pursuit of woman-relevant topics led Cut writers to propose new suggestions for the world's sexiest man alive, drink pond water from Central Park, and get the ice skater style.
1. What does it mean to steal the paparazzi's work? Maureen O'Connor finds that this type of thievery is apparently okay as long as celebrities are the ones doing it.
2. What kind of music does Karl Lagerfeld listen to? He's obsessed with Lorde. Did you assume he wasn't just like you?
3. What's everyone wearing to the ice rink this winter? Katie Van Syckle and Marisha Camp prepared a slideshow of skaters at McCarren Park. They look fantastic, all the them! Sharp as their skates.
4. Who's coming to Capitol Hill? Moms! Kat Stoeffel reports that while the previous generation of women arrived on Capitol Hill as empty-nesters or child-free, the rising class includes a number of younger women with school-age children.
5. Is Adam Levine actually the sexiest man alive? Hell no. Didn't you learn about believing none of what you read? The Cut has got so many other options.
6. Are there other sexy men in the world? Sure. Kathleen Hou found five good-looking male perfumers.
7. What would happen if you drank Central Park pond water? Well, you should use a filtration system, and you still might convince yourself you're getting sick.
8. Were any awful terms coined this week? Yes. Here's Charlotte Cowles on pregorexia.
9. Is it possible to love someone and disagree with them? Of course, writes Ann Friedman, in her article about loathing your family's politics.
10. Anything new going on in the food porn world? Well, in the art world Aurel Schmidt is making lovely, sexual vegetable and fruit illustrations. Isabel Wilkinson interviews her.
11. How do people sext? Why do people sext? We spoke to twenty people with experience, thoughts, euphemisms, and proclivities on the subject.
12. Is Eric Wilson's perspective going to change because of his move to InStyle? "I think it's safe to say the snark monster is going away for some time. But, that said, it's my voice, and I can't say things that I don't think are authentic," Wilson told Charlotte Cowles in the Cut's exclusive interview.
13. Do you have a favorite hat from history? Oh, that's wonderful. It's probably in this list of the 50 most remarkable hats of all time.