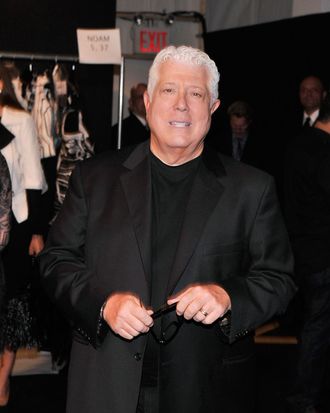 Dennis Basso.
Photo: Stephen Lovekin/Getty Images
Designer Dennis Basso, beloved by uptown ladies for his fancy fur coats, was once mistaken for Bill Clinton in 1994. Normally, this wouldn't be a bad thing, but in this case, the person who misidentified him was Francisco Martin Duran, an assassin who was trying to shoot the president and fired at Basso instead. (Clinton himself was inside the White House, watching a football game.)
Basso told his side of the story to the Post yesterday, explaining that he'd been at the White House to take a tour after holding a Clinton fundraiser. He was standing on the steps, he recalled:
All of a sudden we hear pop, pop, pop, and I go, oh, someone is shooting firecrackers … Hundreds of Secret Service dragged us backwards… they put us in a holding room, there was pandemonium.
Of his resemblance to Clinton, he added:
I am wearing a navy suit, I'm tall, he's tall, white hair, white hair, he's a big guy … [At Duran's trial, lawyers showed] a blow-up of me and a blow-up of the president at 300 yards … we really do look like the same person.
Duran initially pled insanity, claiming that he'd been trying to save the world by destroying an alien "mist" that was connected by an umbilical cord to an alien in the Colorado mountains. (Also insane: that he assumed Clinton was the only white-haired, suit-clad white man in the White House.) Prosecutors proved that Duran was faking, and he was convicted in 1995 and sentenced to 40 years in prison.