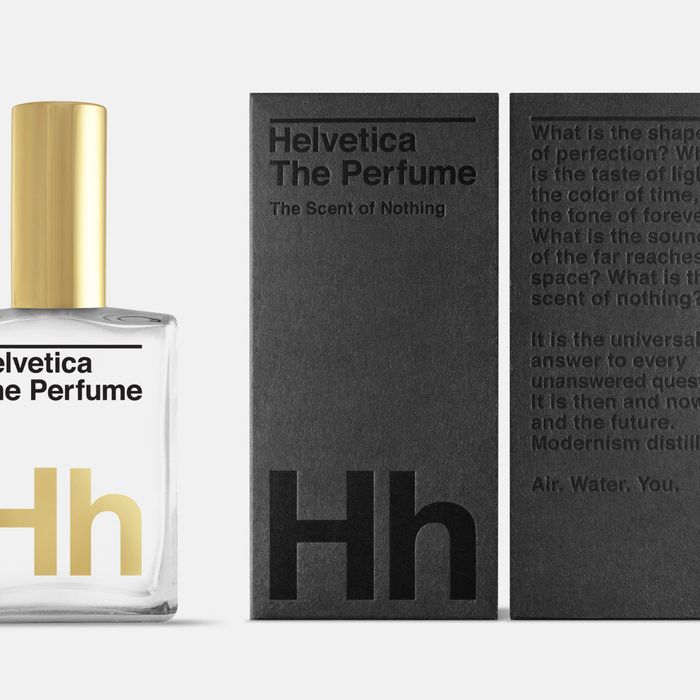 Photo: Courtesy of Helvetica
Perfume has drawn inspiration from dogs, babies, pizza, zombies — so why not a ubiquitous font? Branding company Guts and Glory is now offering a scent inspired by Helvetica, the Swiss typeface. Its targeted audience is presumably anyone who didn't fall asleep during Helvetica, the film. Familiar, yet unfamiliar at the same time, the scent is a clean, invisible, unadulterated blend of only "the purest and most essential elements" ("Air, water, you"). Retailing for $62, it comes in a bottle printed with 24-karat gold lettering and contains two ounces of water.
If you're wondering if this is just a fancy bottle full of water, then you'd be right! Two whole ounces' worth. And this is not even Shahs of Sunset diamond-infused water, or even potable, for all we know. On the plus side, you can refill it yourself at no extra cost.
The inventors of the fragrance, Faun Chapin and Megan Paradise, are founders of the branding agency Guts and Glory —  or, as they call themselves, "ginger partners in crime." And despite being totally up-front about their water-selling gimmick, they're often asked what their product smells like. However, they insist that the concept is beyond an elaborate joke to trick design nerds into buying a fancy branded bottle of water. Paradise tells the Cut:
[The perfume] is about a larger idea. Modernism and the origin of typeface originated in the idea that content, not font or typography, is important. Our product is a comment on the perfume industry and water, and its commercialization.
It's quite a large message to pin on a simple bottle of water, but either you get the joke or you don't. The duo hopes that the "perfume" also sparks a broader debate about the nonsensical nature of the fragrance industry and the idea of branding scent. Chapin adds:
What we, as humans, smell like, is lovely. [In this product,] there's the idea that we don't need to alter ourselves or what we actually smell like. Smelling like nothing isn't necessarily nothing … [Perfume is] an amazing category of absurdity in a lot of ways. On our Tumblr, we've been cataloging perfume ads. It's an amazing visual ride of absurdities. 
Of course, Chapin and Paradise don't mean "absurd" in a bad way. "We both love perfume," says Chapin. "We're big fans of Christopher Broisius [fittingly, founder of the anti-perfume company I Hate Perfume]. We have a shared similarity with him in the way he thinks of scent."
Customers, so far, have responded with everything from praise to outrage. "Some people are like, This is just water, what is wrong with you?" Paradise says. "But more say that this is a fantastic idea and they love it. We are making a beautiful art object. It is literally printed in 24-karat gold." And if people feel duped by the product's content, they do offer returns. Or maybe you're just more of a Comic Sans lady.