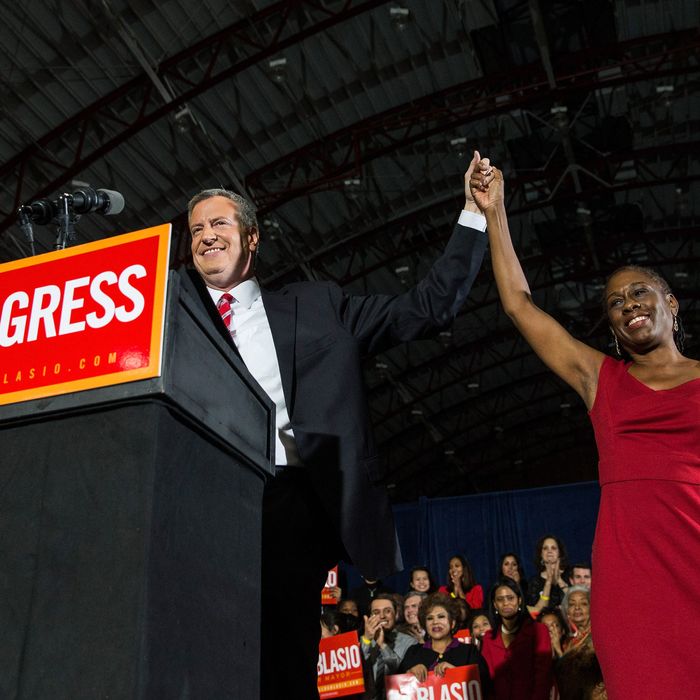 Photo: Andrew Burton/Getty Images
A little after 11 p.m. on Tuesday, I sat on speakerphone with Anni Kuan, the woman who designed both of Chirlane McCray's choices for Election Night — one dress deep red, the other royal purple. Kuan and I both had our eyes glued to our laptops, watching the live stream on Bill de Blasio's website. McCray, New York's new First Lady, would reveal her choice at any moment. Suddenly, Kuan was shouting. "Oh my god! Oh, that was my top choice! Oh, I'm so glad, oh my god!"
Kuan, a Pratt alumna and native of Taiwan (she moved to New York at age 12), established her studio on West 38th St. in the garment district in 1986. Today, with only three employees, she distributes to over 35 shops across the country. Among them is Otto in Park Slope, where McCray is a regular.
McCray's personal wardrobe reflects her loyalty to Kuan: On Tuesday, she cast her ballot in a blue floral knit dress and black zip jacket, both by Kuan. And then there's the pale blue knee-length basket-weave dress with matching belt, worn to Susan Sarandon's ping-pong fundraiser for de Blasio in August, and the embroidered black-and-white silk jacket with a black silk lapel worn to a press conference outside the East Side Community High School that same month.
On the afternoon of Election Day and again later, in the aftermath of the results, the Cut spoke to Kuan about symbolic colors, dresses that you can move in — and the significance of matching your partner.
You're known for having a small operation, with everything made in New York City.
Oh, yes. I'm very happy, because I've been in business for 27 years, and I think that's quite a record for a small designer. I have three people working for me — one is a seamstress and pattern maker, another one is a studio-manger and production person, and the third is a part-time employee, who basically assists everybody. So it's a tiny operation, where everybody has to know eight to ten different things, and multi-task.
How did you and Chirlane meet?
One of the shops that carries my clothing is this wonderful store in Brooklyn called Otto. Chirlane has supported the shop since day one, so that's how she came across my collection. She lives in the neighborhood, and she came by and introduced herself during one of my trunk shows a few years back.
What was your first impression?
She's so visibly down-to-earth. I knew that she favored my collection, and I was very pleased and relaxed to have met her. My first impression was that she was extremely sweet.
Do think that Chirlane's style sets her apart from the other First Ladies? I'm thinking primarily of Bloomberg's long-term girlfriend, Diana Taylor.
Absolutely. Her sense of style is so much more relaxed. She favors the sleeveless, the streamlined, and the deep, dark colors — those jewel tones.
What does Chirlane like about your work?
It's pretty evident from the selection she chooses: She is very attracted to the colors. And I pride myself in offering lots of colors and textures. And she especially likes the clothes that are easy to move in, so that she can be comfortable in them all day.
Were you surprised to be tapped as her designer for Election Night?
Well, whenever I see Chirlane at Otto, she tells me, "Oh! I'm wearing this dress of yours for an interview." And when I Google her to see her images, I'd say 70 percent of whatever I see is a piece from my collection.
So how was the lead-up to Election Night different?
When I realized that Election Night was coming up, I asked the women at Otto, "What is Chirlane going to wear for Election Night?" The message got passed to Chirlane, and she said that she hadn't thought about it, because she's been so very, very busy with the campaign. So she thought she would just pull something out of the closet to wear for that night.
I bet you weren't going to let her get away with that.
I was like, "Oh no you don't! You worry about the campaign, and let us worry about how you look." So I messengered over five dresses to Otto, and she picked what she liked. I didn't want to give her any patterned options, because my patterns are very bold and graphic, and too eye-catching for an event like this. So I went with subtle options. Basically, my clothes should not wear the person. The person should wear my clothes.
Did you have to do any custom fitting?
I went over last Thursday to fit her, and to see if we might have to make another dress from scratch. And then she selected two dresses.
Two?
Yes. It all depended on what Bill decided to wear. I think that visually, she is concerned with how the two of them will look together. Look at the cover of the New York Times from September 11, where she's wearing my printed dress, and Bill is wearing a yellow tie. There, you definitely see how she coordinates for visual impact with Bill. And I love that about her. She doesn't just think about what looks good on her — she wants to make sure they look good as a team.
And were you pleased with her choice on Election Night?
I liked that she picked something red, because red represents fame and, generally, the next level. It's a winning color. Her other pick was eggplant, which has always been the color of royalty in the Asian culture.
So after the dresses were settled on, she didn't just walk out with them? 
No. I brought them back to my studio, and started cutting. We had to hand-cut the red dress. The purple dress was already in prototype, so we just had to make alterations. We didn't want to messenger the altered dresses back to her in case something went wrong, so a girl from Otto came to my atelier in midtown to pick them up, and Chirlane went to Otto herself to grab them.
Did you get to do her styling for the event as well?
Oh, I wish! But really, it was so simple for her. She came to me to make sure that the dress fit her very well, and that was it. It was an easy, throw-on piece for her.
At the end of the day, how did it feel to see Chirlane on stage?
I couldn't believe my eyes. I felt so emotional. Because I've known her for a little while now. What a perfect little jewel she is!
And what about de Blasio's tie?
Oh my god. What a great choice to have the whole family coordinated. I mean, the red team won!
Have you thought at all about dressing the First Lady throughout her tenure?
It would be my honor. Are you kidding me?