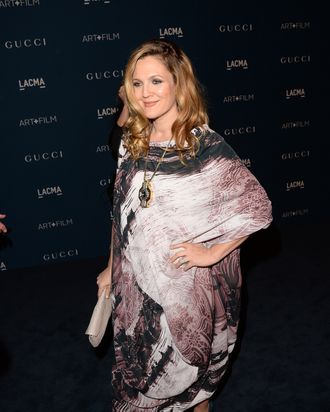 Drew Barrymore.
Photo: Jason Merritt/Getty Images
When a famous person gets pregnant, she can go one of two different routes: 1) She can refuse to comment about it publicly, because it's nobody's business but hers, or 2) She can come out and announce it before everyone starts speculating about her weight gain and hiding in the bushes at her obstetrician's office. (Technically, the second option has an extended version, which consists of trumpeting one's gestation from the rooftops and getting lots of publicity for it, because BABY BUMPS!)
Celebrities who've chosen to keep quiet include Gisele, Carla Bruni, and January Jones, to name a few, plus Drew Barrymore during her first pregnancy with daughter Olive in 2012. Now Barrymore is pregnant again, and chose to come right out with it. Why the change in tactic? "Last time I never commented on it and people just stalked me the entire time," she tells People. "So yes, it's happening, it's true. I tried to keep it a secret for as long as possible." And it's not like people wouldn't find out eventually. Let's hope her forthrightness brings her some privacy, or at least many boxes of nice, free maternity wear.