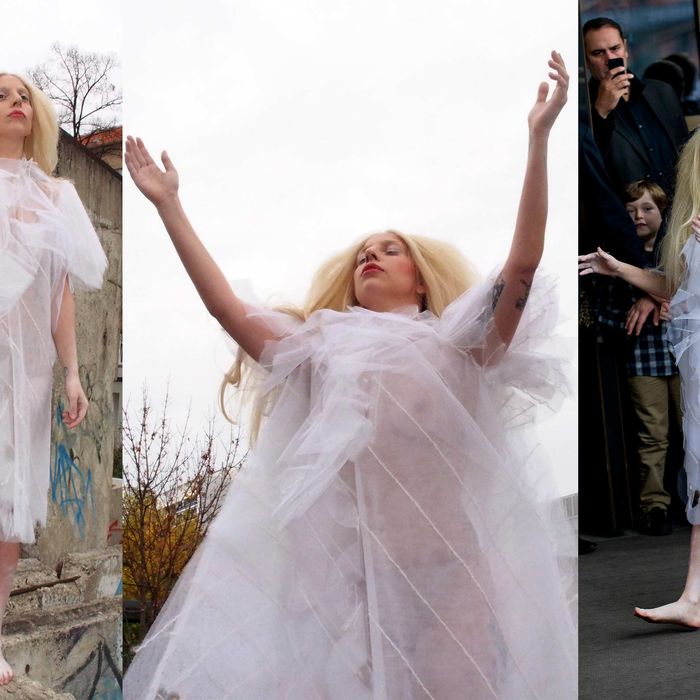 Photo: Chad Buchannan/FilmMagic,Target Presse Agentur Gmbh/Getty Images
In 2015, Lady Gaga will become the first-ever performer to sing in outer space. She has signed on for the Zero G Colony tech festival in New Mexico, where she'll be loaded into a Virgin Galactic spaceship and blasted off the planet. "She has to do a month of vocal training because of the atmosphere," a source tells Us Weekly, confirming that it will be "like nothing the world has seen before." Literally.
The source also assured everyone that Gaga will be able to bring her wardrobe team on board. Because there's nothing like zero gravity to mess up your outfit! And heaven forbid Gaga wear something boring like a space suit, particularly as she recently confessed that she needs fashion to keep from going off the deep end — which is not something you want to happen when you're floating around the thermosphere.
"[Fashion is] how I deal with my insanity," she said on BBC's The Graham Norton Show, which will air this Friday. "From when I was young I had voices in my head, and for the longest time I was drinking and doing a lot of drugs, and it was the clothing and the artistry that saved me. I get sheer joy out of creativity, it's like a psychedelic experience for me." But really, what will she wear for the journey? A pearl-encrusted astronaut diaper? Oxygen tanks hidden in her giant sleeves? A helmet that looks like this? And her inevitable costume change will be a true feat of technology.