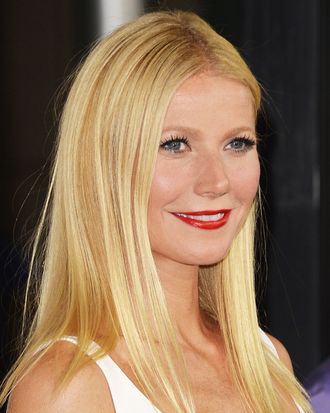 Photo: Jason Merritt/Getty Images
Gwyneth Paltrow's lifestyle advice tends toward the rigorously prescriptive. GOOP suggests many strict rules about diet and many elaborate ideas about luxury. But for working mothers? Her advice amounts to, Whatever. It's your thing. If you're a working mother, nobody else should be telling you shit about shit. 
When people tell mothers what to do, it angers Paltrow. So she told Red magazine in the December issue she guest-edited:
It makes me cross. I personally think that the work-life balance for a woman should be exactly what she feels is right for her. And nobody else can set her time schedule. And nobody else can tell her how many hours a week she needs to devote to this, that or the other … fuck what anybody else says.

It doesn't matter what anyone else thinks. That's what we've got to let go of. That idea of 'Oh god, if I don't show up to this concert, all the other mums are going to think I'm terrible.' Well, so fucking what. When I'm with my kids, I give them everything I have. And when I'm not, I give whatever I'm doing everything I have. And that's my work/life balance. I've made it work for me, but it doesn't matter what my specific thing is.

It doesn't matter what anyone else thinks. It matters what you think of yourself. And what your children think. So if anyone is going to ask my advice, I'd say, do what is right for you and don't give a shit what anyone else thinks.
Working mothers! You owe allegiance to nobody. You do as you please and give no fucks. As for the rest of us, we will do our best to go spice shopping at the right markets, be thankful for our thread counts, and wrap our kales in our arugulas.