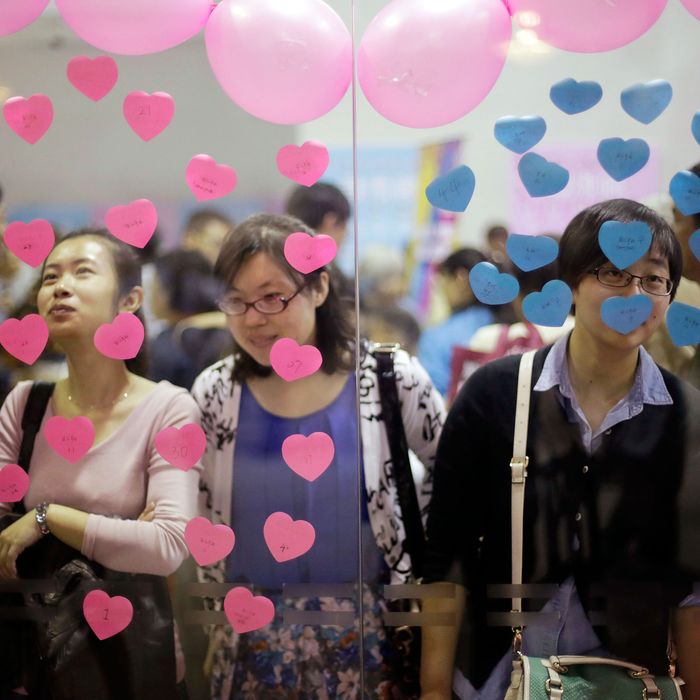 Photo: Eugene Hoshiko/Corbis
Tomorrow is 11/12/13, which means many people will get married (even though it's a Tuesday), clogging social media feeds with their superstitious bliss and the promise of easily remembered anniversaries. But that's tomorrow.
Today is still 11/11, or Singles' Day in China. Invented by college students in the 1990s, Singles' Day falls on 11/11 because all those 1s recall "bare branches," the Chinese word for bachelor. On this day, singles honor their relationship status by eating doughnuts (four fried dough sticks to symbolize the 1s, according to Wikipedia) and online shopping. 
Singles' Day is quickly becoming China's equivalent of Cyber Monday, Bloomberg reports. E-tailers Taobao and Tmall broke their Singles' Day sales record this year with heavily promoted markdowns on Gap and Steve Madden merchandise, as well as listings for temporary boyfriends. While some of the country's overgrown bachelor class and maligned "leftover women" spend Singles' Day at mass matchmaking events or participating in "date my roommate" social media campaigns, others rent a boyfriend or girlfriend for as little as ¥800 ($130) a day. Rented boyfriends will accompany women home to their parents' for the holidays and, for additional charges, go out to dinner and kiss them, according to several hundred postings on Taobao. I can think of no reason why this holiday hasn't been lucratively exported to America, a nation with a growing population of adults who are either single or divorced and a demonstrated enthusiasm for doughnuts, online shopping, and romantic comedies about rented boyfriends and girlfriends.