Homeland's Morgan Saylor on Fashion, Nude Scenes, and Red Carpet Dress Drama
Photo: Neil Rasmus/BFAnyc.com
19-year-old Morgan Saylor, best known as the oft-maligned Dana Brody on Homeland, is used to playing sullen. "When people recognize me, they get a kick out of seeing me smile," she explains. "It's funny. They know me as Dana, and Dana doesn't smile very much." Currently in L.A. filming McFarland, a movie about a high school track team, Saylor is enjoying a break from the brooding, somber role that's catapulted her into starlet territory. "My character's name is Julie, Julie White. I wear a lot of pink," she says. "It's very different from Dana, which is nice."
Over the phone, Saylor sounds just like Dana, with some of the same intonations and pauses, but she's infinitely more cheerful and well-adjusted. She insists that getting famous during her junior year of high school "didn't change much" at all, and that she isn't bothered by the Internet's abundant hatred for her character. "I'm glad that they care," she says of Dana Brody's critics. "But I'm also glad it's Dana they're talking about, and not me."
Now a resident of New York City — she got her first apartment, in Bed-Stuy, over the summer — Saylor is taking the year to work and plans to attend the University of Chicago next fall. We caught up with her last week to talk about red carpets, sex scenes, and the pitfalls of teen fame.
Thanks for chatting on your day off. What do you usually do when you get free time?
I like to sleep late. Like, until 11. I like to see movies, and I go to the beach. I'm a big fan of the beach. I like to have an easy day. Cook. Eat some good food. Typical stuff.
I know that you got famous when you were in high school. How did that affect your social life?
I grew up in Atlanta, so I don't think anyone – my friends or me – really "got" it. When I'm in New York and L.A. I get recognized a lot more. I was at a restaurant recently and the waitress wanted to high-five me. I find it very exciting to get recognized. But when I'm at home, really nothing is different. Honestly. Which I liked.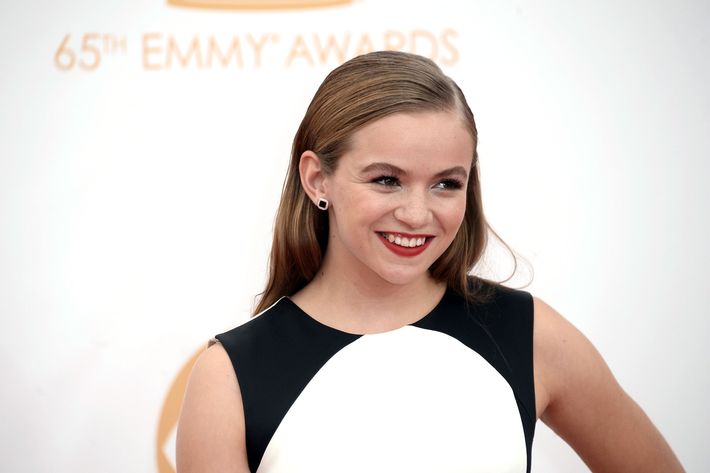 Dana gets a lot of flack, especially at beginning of this season, and you've been amazingly mature about it in interviews. Do you ever read about yourself on the Internet?
I try to stay away from the Internet. It's a scary place, for Dana especially. But friends will send me something and be like, "Haha! They're making fun of you." But it makes a big difference that they're talking about Dana and not me. They're not writing about Morgan Saylor. But I think it's cool that they're saying something. You do feel a little defensive of your character, but at the same time you just have to let it be.
Where do you call home these days?
Right now I call New York home, but I grew up in Georgia. My parents and my brother are still in Atlanta so that's very home-like. But all my friends who are my age are in school or spread out across the country. I moved to New York this summer, and my boyfriend's in New York, too, so that does feel like home.
Finding your first apartment in New York is such a coming-of-age experience.
It is! And I wasn't even there to do it. I found it in the New York Times listings, and I got it without having seen it in person. I was working on the show, so I wasn't able to make a trip up, but I could tell that it was a really good apartment and I wanted to jump on it. It's in Bed-Stuy.
Now that your friends are all at college, do you feel like you're missing out at all?
Yeah. I'm planning to go to the University of Chicago next year – I deferred. But I really would like to go. The urge is, like, eating me more so, especially being in L.A. with all these actor people.
There are a lot of people that get famous at your age and struggle with it a lot. Do you ever worry about that?
I see it a lot, especially here in L.A. I'm here by myself, and I have, like, three friends here. I have Morena [Baccarin], who plays my mom on the show, and I hang out with her, her husband, and her brand new baby a lot. But besides that, I know, like, two teenagers. And I can see it's hard to live this way. I really can. You don't know anyone, and if you're not working, you're bored. And if you're bored, you do drugs, or drink, or do something silly like that. But seeing that makes me: a) not want to live here, and b) not want to do that. I don't mean to rag on L.A. because it definitely happens elsewhere, too. Even when you're working — I did a movie in upstate New York this year, and it's just a weird schedule because you work, work, work for a few days, and you stay up all night shooting, and then you don't have anything to do at all.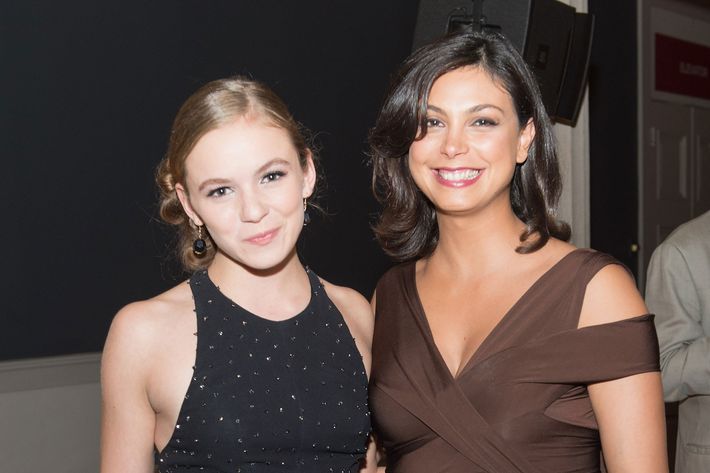 I imagine it's very lonely, too.
Yeah, it is. It's a lonely career. And it's, like, boring when you have time off, which I think is what leads to people's spirals. I like to live in New York and with people I know who have normal jobs or go to school.
Dana is really coming into her own sexually this season. How did you prepare for some of those scenes?
It's weird, it really is. Especially with the crew, who are people I've known since I was 15. I was very, very grateful to work with the only female director on the show for those scenes. We would talk about what I felt comfortable with, and kind of choreograph it. Sam, who plays Leo [Dana's love interest], is like, 25, and I'd only met him a day or two before, so it was definitely awkward. But he was great. And wasn't really naked. I had these petal things on my boobs.
You turned 18 and they really jumped on it, didn't they?
Yeah. Before I turned 18, I had all these rules. Like I could only work ten hours a day, and I had to go to school. And then my first day back this season, I worked like 14 hours and I had to do a scene with fake nude selfie.
Do you ever feel self-conscious at all, physically? You are literally growing up in front of the camera.
It is weird. When we started the show, I was 15 or 16 and I was playing 15 or 16. Now it's been three years, but only about a year has gone by in the show, so now I'm playing a little younger than my own age. And now Dana definitely feels younger than me, Morgan.
Do you think you would like Dana if you met her in real life? Would you guys be friends?
I think I'd be fascinated by her. I would think she was cool and maybe a little bold. Bolder than me.
I saw you at a couple of fashion shows in New York in September. Are you interested in fashion, or is it just an obligation in your job?
If you had asked me a few years ago, I would have said, "Hell, no." But now I've gotten really excited about it. And I've always enjoyed searching for clothes. I like thrift stores and vintage stuff, and not so much going to Urban Outfitters. What got me interested is having to choose dresses for the carpet, and doing a lot of shoots with really cool clothes. I've gotten to try on a lot of things that I've liked, and some things that I haven't.
Do you have a distinct style?
I'm trying to be more put-together. My closets are very messy. I like Rebecca Minkoff; her clothes are casual, but cool. I love Band of Outsiders. And ASOS makes a lot of good stuff. I can get lost on their website for hours. I don't like to spend a lot of money on clothes.
Dana's wardrobe is pretty fascinating. She wore those floppy boots for the whole second season, and she's always wearing flannel shirts and stuff like that. Are you pretty attached to those clothes at this point, or do you never want to see them again?
They're actually a huge part of the character. Dana doesn't care about the way she looks. The costume designer and I have figured out a pretty formulaic layout. She has like one pair of jeans, one pair of shoes, and five T-shirts that go in rotation. She really doesn't care – she doesn't care if her boobs look good, she doesn't care if her hair looks good. I just don't think she's that kind of girl. I do have a few pieces of her wardrobe that have become part of mine. I have some of her sweaters, and I had the boots for a while.
Do you ever feel pressure to be "branded"? Like, sort of pigeonholed into a certain look, or to develop a relationship with a certain designer?
Not really a pressure. I think it's cool to get to know designers. There is some anxiety, maybe, that after you've met a designer, you want to be loyal to them and wear their clothes. And sometimes it's just not my style. But you have to be honest, and I don't really want to lie. I don't really want to meet the people if I don't care about their clothes – although that sounds kind of shitty.
Do you work with stylists at all?
Yes, I've worked with two. I worked with Micaela Erlanger for the Emmys. She was great. There was some dress drama, and she was awesome and made a million phone calls and handled it all.
What was the drama?
Well, we chose a dress and then it turned out that someone else was wearing something very, very similar, by the same designer. So we had a second fitting with all new dresses and took a bunch of pictures and sent them to my team. Manager, agent, publicist, everyone. It's so many people with so many opinions. So another designer made a second dress for me, and it just didn't work – it didn't look right. So the Thursday before the Emmys we had to go back to a third dress, which was an Honor dress I had wanted to wear in the first place. It was something I had tried on in May for the Met Ball. So it was a long, long process for a simple solution.
Is it helpful to get so many different opinions? Or is it just really confusing?
It is confusing. Because some people are in L.A. and not New York, and you have send pictures and e-mails and it's not the same as being in a fitting room. And it can be annoying if someone disagrees. Red carpets seem so glamorous, but you're really just standing there sweating and worrying your hair is going to fall. And in the end, people are only going to see one picture of you. You just smile for one second and then you walk over to the side and check your phone. It's pretty weird.