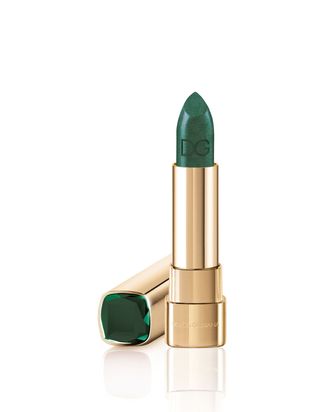 Photo: Lee Gladman/Courtesy photo
Who needs another red or plum or pink lipstick? At least I assume that's the thought process behind Dolce & Gabbana's new Sicilian Jewels collection, which presents a promising case for bringing other colors into your lipstick wardrobe. The new collection features four Classic Cream lipsticks in literal jewel tones — with shades such as topaz, emerald, amethyst, and ruby. Ruby is a how-to-wear no-brainer. For the rest, we spoke to Christian McCulloch, Dolce & Gabbana's national makeup artist, for clues on how to wear green lipstick — and to figure out which of his clients, who include Emma Stone, Rachel Weisz, and Christina Hendricks, could pull it off.
Well, let's get right into it: How and when do we wear green lipstick?
Ha-ha. Well, there are not that many occasions that call for green lipstick, apart from possibly Halloween. But the green lipstick just needs to be softened down. I would wear the green in a sheer way, mixed with a gloss or with a sparkle. You could also use it on the eye, used as a cream eyeshadow, with a slight gloss.
Who do you picture wearing it?
Well, it's very punk rocker and very fashion-forward. I could imagine some bloggers wearing it, or someone like Tavi. It has to be someone that is bold. I have seen a girl wearing green lipstick. She was East Village–looking with severe bangs and strong sense of look. Obviously, if you are doing green lipstick, the rest of the face would be minimal. With black eyeliner, mascara, and pale skin, it would be a little bit goth. It's a directional color; it's not a suburban look.
Well, interestingly enough, someone at Fashionista did a social experiment where they wore green lipstick for an entire day. And only one person commented!
Oh, wow. That's what's so great about New York! No one is surprised when you see something unusual. We're used to conceptual and fashion things, so it takes a lot for someone to comment.
The rest of the collection shows some unusual colors, too, like the purple (amethyst) and the yellow (topaz).
The colors together, although some are unusual, give a bit of tension or verve. I mean, they are Sicilian jewels! So it's very Dolce & Gabbana and opulent. This line is about experimentation and having a little bit of fun. When these colors are mixed and layered, it has the effect of silk being shot with two colors.
The purple is really cool, it's one of my favorites. That shade, when mixed with a red lipstick is incredible, it gives a great texture. The green can be mixed, too. Mixed with a ruby red, you get a more brownish-red color, that is a beautiful fall-winter color.
The Topazio would look particularly amazing on someone with darker skin tones, so someone that is African-American or Indian. Golds, bronzes, coppers, look great on someone who is tan and darker. Also, you can put the yellow over red to get a dimensional quality.
Which of the celebrities that you work with could you envision wearing green lipstick?
Hmmm. I think it would look good on Rachel Weisz, with her dark hair and eyebrows. I think it could be cool on her.
And we already know she looks good in green or near green — she was a witch in Oz: The Great and Powerful.
Right! Hmmm. No to Michelle Williams or Emma Stone. Scarlett Johansson could pull it off. She has those incredible lips. Drew Barrymore would wear it.  She's so lighthearted and fun. She loves to wear dark lips and looks great in lipstick.
What about Christina Hendricks?
Oh yes! I didn't even think of that. It could look beautiful on her with her red hair. She could make it beautiful and sophisticated.
What about music people? They tend to have a more adventurous beauty look.
Oh yeah. Well, not Taylor Swift. Lady Gaga, Katy Perry would have no problem with this lip whatsoever. They would go for it. Same thing with Iggy Azalea, she has very cool hair and makeup.